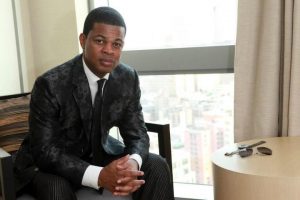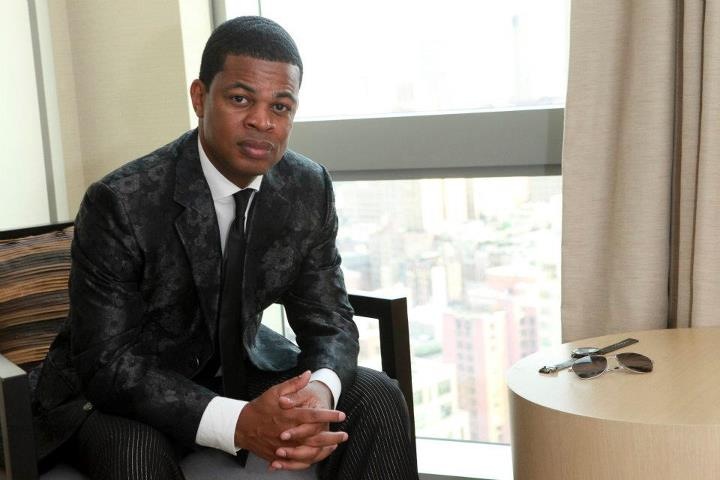 In the choir room of the Murphy Fine Arts Building 18 young men and women who make up a fraction of the ensemble, Soulful Symphony, gather for a rehearsal with composer and artistic director Darin Atwater. Far from strangers, choir members laugh and talk while waiting for Atwater to arrive. Soon, Atwater strolls in. He is smiling, dressed comfortably in a grey fedora, a yellow cardigan, jeans and converse sneakers. The choir preps to start practice.
"Hey Darin," one of the members calls out, greeting him. Still smiling, Atwater walks over to the piano and begins to play. The choir harmonizes with ease and pauses when Atwater stops playing.
"Same thing I said last time everybody, it's important to focus on this stuff, because we know it," he says. "This show is probably the hardest thing we could do because we know all the music, so it's easy to not be focused, and not be as particular as we need to be. I need you to sing like it's the first time we've sung all this music." He begins to play and the choir takes the song from the top again.
Students walk past the rehearsal hoping to catch snippets of the concert, but this doesn't bother Atwater. "I like that people feel connected to it," he says. Some students even reach out to him through social media. "I get a hit-up on Facebook all the time like 'can I come to the rehearsal, can we hang out?"
Atwater, a former Morgan student enjoys rehearsing in the Murphy Fine Arts Center. "It's great to be back, I've made it a point for us to rehearse here because it keeps me connected to the school, and it's kind of my way of giving back and connecting to the institution," he says.
Atwater came to Morgan on an accounting scholarship, but after playing for Nathan Carter, then music department dean, he switched his major to one he truly loved, Piano studies. Melvin Miles, director of university bands and instructor of Morgan's band discovered Atwater's capabilities, seeing him as more than just a piano player after he overheard him playing in the practice room. He told Atwater he ought to consider composing. "From that day I started thinking more about composing," says Atwater. "And six years later I had my first debut with the symphony orchestra. From that on I said this is what I want to do."
After studying at Morgan, Atwater attended Peabody Institute and realized he wanted to compose more than classical European symphonies. "They were just throwing all of this European music at me–you know Beethoven and Mozart. And I grew up listening to r&b, gospel, jazz, and I was like how come we're not using our music for the symphony orchestra?"
His first composition was a Negro spiritual, "Songs in a Strange Land." Negro spirituals, traditionally sung acapella, were developed as a way for slaves to communicate. Atwater reintroduced the spirituals with instruments.  "Songs in a Strange Land" led to his creation of Soulful Symphony. The symphony, made up of mostly African Americans and Latinos, has been together for 13 years. "It's moving like a smooth piece of fine engine right now," says Atwater.
Eighty-five to ninety members work together to create musical magic in various genres including gospel, jazz, r&b, gogo, hip hop and house music. "It's like something you've never experienced before," he says."There's this stigma with the orchestra that people kind of think of it as a European thing and not an American thing." Atwater's mission is to make orchestra accessible and enjoyable for everyday American people.
In 2004, Atwater formed a partnership with Baltimore Symphony Orchestra (BSO), and had 10 sell-out performances at their venue. Atwater's latest partnership is with the Hippodrome Foundation (HFI), a nonprofit organization that presents Broadway series and seeks to maximize community access to the Frank-Merrick performing arts center. Soulful Symphony and HFI work together to expose inner city kids to all aspects of theatre. Their education program works with students in vocal and band areas at Lansdowne High School and Booker T Washington middle school. Soulful Symphony will have a partnership concert with the Hippodrome Foundation, "The Best of Soulful Symphony," on February 23rd.
The choir and all other sections of the orchestra rehearse separately, but come together for one big rehearsal the day of the show. But for Soulful Symphony, there isn't much pressure. "These rehearsals are like hashing out stuff we've already learned. Luckily we've sung all this music so we're really just brushing up on some new things," says Atwater. "We've been together so long that it's just like riding a bike for them."