Deployment to Graduation: Morgan student makes a comeback after being deployed during matriculation
Morgan State University celebrated its over 400 graduates in the eighth annual fall 2021 commencement.
As Morgan State University celebrates its annual fall commencement Friday, more than 400 graduates walked across the stage and into a new chapter of their lives.
During their matriculation, college students juggle a lot outside of school like working a job, family issues, health concerns and more. However, students like Dimitrius Byrd persevered through it all to get their education.
Byrd is graduating fall with a bachelor's degree in applied liberties studies, but his journey began in 2012 as an engineering major. He is currently in the Air Force as an aircraft electrical and environmental systems mechanic on the A10 Warthog Fighter Jet. 
He found an interest in joining the military his junior year after overhearing a conversation from army recruiters in the game room. 
"I was just sitting in the game room one day and army recruiters came in," Byrd says. "Any other time I would turn them away, but I entertained the conversation. I just wanted to see what they were talking about."
Byrd was influenced to join the military by his family members who are veterans, including his father who was previously in the Marines. His father reassured him that his best bet was to join the Air Force base. 
As a result, Byrd first left for basic training in May 2016 following the spring semester. He completed training for seven and a half weeks before going to what he described as "tech school." 
"It was like the basic learning of the job," Byrd explains. "I started early and graduated on time, mid-December. After that, I had 90 days of on-the-job training and I just stayed full time after that." 
Byrd worked full-time in the Air Force base as an electrician until he was deployed to Kandahar, Afghanistan in January 2019. He enrolled in an online class at Morgan to get reacquainted with taking college classes again. 
While taking on an online class at Morgan, he worked 12-hour shifts while managing an eight-hour time difference from Afghanistan to Baltimore. He continued his engineering curriculum at Morgan during the fall 2019 semester.
"Coming back to school really was an adjustment period," Byrd explained. "Not even just the classes, it was a new culture around campus. I know a lot of people say this is the new Morgan and it really is. From fall 2012 to fall 2019, it's different. Different age groups, different personalities, different atmospheres."
As Byrd gained hands-on experience in the Air Force base, the engineering classes were more of a "review" to him. When he finally got accustomed to in-person classes, the COVID-19 pandemic began in the spring 2020 semester. 
The pandemic posed a challenge on students as they were forced to finish their courses online for the remainder of the school year. 
"Taking classes online was so difficult because most of this stuff is usually hands-on," Byrd explained. "I would prefer to be in the classroom where the professor is there to answer questions. It really was difficult." 
As the pandemic continued in fall 2020, Byrd continued to struggle in his major classes despite his passing grades. Byrd's dissatisfaction led to him changing his major to applied liberal studies in the spring 2021 semester.
"[Engineering] was still a struggle, it still was stressful," Byrd said. "So that's when I made the decision to change my major." 
He expressed the change gave him more freedom and allowed him to graduate earlier compared to other programs. 
After nine years, deployment to Afghanistan, and returning back to college Byrd walked across the stage with his bachelor's degree in his hands to commemorate all he went through to get there.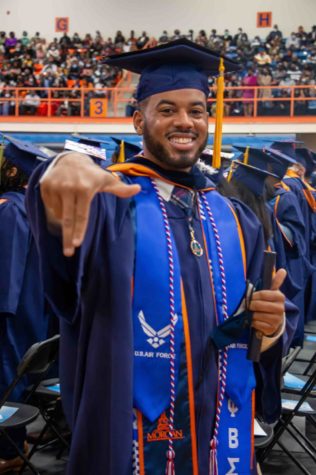 On top of graduating this fall, he recently got promoted as an E5 Staff Sergeant, a more hands-on role in the Air Force. He plans to use his degree to possibly work in a federal branch or government agency. 
"It's a great feeling," Byrd says, "To be able to say I'm ending with not one, but two degrees [associate's degree] after thinking I wasn't coming back to school is definitely a great feeling."