Rain, mist don't dampen commencement spirits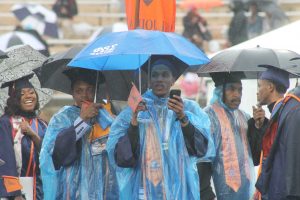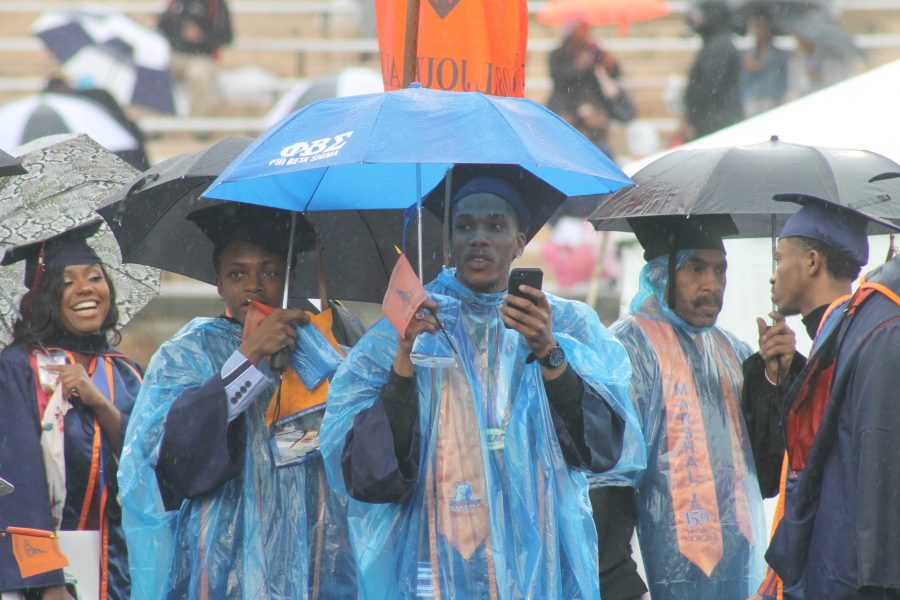 Amid the week's consistent rain and a forecast of more precipitation during the time of the service, MSU President David Wilson left the decision over whether to hold commencement outdoors in one service or indoors in separate services to the graduating students during Friday's rehearsal.
Wilson "officially made the call to move forward with hosting the Commencement ceremony outdoors," according to a statement released by Morgan administration.
"At our graduation rehearsal, on yesterday, our students voted overwhelmingly to hold the commencement exercises outside in one ceremony despite the weather conditions," said Wilson, at the beginning of the ceremonies.
As a nod to the expected heavy rainfall, Wilson added that the service would move on quickly.
"In support of their decision, we're going to shorten the ceremony slightly, and we're going to make all the modifications to expedite them, while still giving you the full breadth of the Morgan graduation experience," he said.
Prospective graduates were presented with the options of a morning ceremony held outdoors for all to attend or split commencement services held in the morning and afternoon in Hill Field House, with each graduate receiving a maximum of seven tickets.
About 90 minutes into the ceremony, the hard rain drops slackened up into a light earthy mist with a little sun peeking out, clearing the way for the names of graduates to be read and pictures to be taken with better light.
But, the decision to proceed in the mixed weather was not universally hailed by graduates and their supporters.
Darrell Walton, a construction management major, said the excitement he felt from being the first in his family to receive a bachelor's degree was dampened by the decision to hold the commencement ceremony in the rain.
"I was expecting the president to make that call, and not leave it up to the students, said Walton, who graduated with magna cum laude honors. "They gave us the option and everyone stood up to have it outside. I'm glad that I got this, but I preferred not to be in the rain. I actually considered not coming because of the weather."
Walton added he did not vote at all during the graduation rehearsal because of his irritation with having to make the choice.
Nerissa Williams, Walton's sister, said, "It (attending in the rain) is definitely not my preference. However I will be in the rain, the snow or whatever to support him because I am just so proud."
However, some graduates basked in the glow of the moment, even after the rain picked back up two hours into the ceremony.
"I feel awesome! Even though it's raining, I have sunshine in my heart and I just feel great today," said Janice Drakeford, a family and consumer sciences graduate.
Overall, graduates were satisfied with how the ceremony turned out despite the inclement weather.
"I'm feeling pretty accomplished actually," said Yazmeen Carter, a finance major who graduated with a bachelor's. "Despite the rain, I feel like everybody did their job with trying to get everybody out fast, and it was a nice speech better than I expected."
Carter added, "I felt like it wouldn't have been the same inside. Because our school [the School of Business and Administration] [would have been] at 4 p.m. and the commencement speaker wasn't going to be there. We would have to watch it on the screen, so we wouldn't have got the full experience and we only had seven tickets."