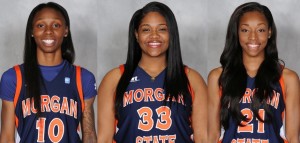 Returning home from a crushing 105-76 loss at the hands of Georgia Tech, and playing their third game in five days, the Morgan State Lady Bears took advantage of their matchup with a lower-level Wesley Lady Wildcats team and improved their record to 1-2 with a 90-50 victory on November 18.
Head Coach Donald Beasley did not prematurely count out the Lady Wildcats, a Division III program, learning a lesson from last year when his team was handed a loss from Division II Lincoln University in the season opener.
The Lady Bears took advantage of Wesley from the opening tip, beginning the first half with a 19-2 run that lasted almost six minutes. The Lady Wildcats could only hope to keep the Lady Bears from making it halfway to the century mark, going into the halftime break down 48-22.
Even as Morgan State ran Wesley out of the gym, there was a sense that they could have topped their performance that evening. Freshman center Lexus Spears, a towering inside presence at 6'2" who had a double-double with 13 points and 12 rebounds, said, "I think we could have done better on defense, knowing how we play defense and how it should have been ran."
Tracey Carrington, the team's lone senior, led all scorers of the night with 27 points, including three 3-pointers and 10 free throws. Freshman Braennan Farrar added to the team's offensive efficiency with 9 of their total 19 assists. "When you got a lot of people looking to score, and willing to give up the extra pass to your teammate, that's always a good thing," Carrington said.
The Lady Bears also play at Hill Field House on Thursday, November 20, against Washington Adventist, an NAIA program, and hope to continue on with the success that began against the Lady Wildcats.
"Just because we click well, it ain't good enough," said Coach Beasley on the ladies' game "You've gotta click consistently, and that's what I'm looking for."
Photo by MSU Athletics.