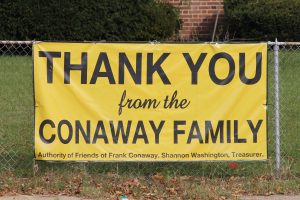 From their homebase in West Baltimore, the Conaway family has been considered one of Baltimore's leading political family for years.   
Democrat Frank M. Conaway Sr., 81, the family patriarch, and a Morgan graduate, is now running for a fifth term as the Clerk of the Circuit Court of the city, while two of his three children hold elected office.
Frank, Jr., 51, is running for a third term in a controversial race in the 40th legislative district of the Maryland House of Delegates. Belinda, the daughter, has been a city councilman and is a candidate for the city office of Register of Wills.
Even Mary, the mother, who is currently a Methodist pastor, has been an elected official, serving for 30 years as Register of Wills in the city.
Their time in the public square rivals that of the Mitchell family, which produced three generations of elected officials, and the Rawlingses — father Howard, the former chairman of the House Appropriations Committee and daughter Stephanie, the current Baltimore mayor.
The Conaways have been mired in political and personal controversies, from bizarre You Tube videos to lawsuits over residences.
Frank Jr. received the second-highest total among a field of 10 candidates in the June Democratic primary, but became the target of Del. Shawn Z. Tarrant's write-in candidacy.
Tarrant, a two-time delegate, finished fourth in the primary, but launched a campaign to win back a seat, with Conaway as the target, rather than fellow Del. Barbara A. Robinson, who came in third, and newcomer Antonio Hayes, who finished first.
Tarrant told the Baltimore Sun that Conaway is "not fit to serve," and five candidates who finished behind Tarrant have thrown their support behind his write-in challenge.
Frank Conaway Sr.

Clerk of the Circuit Court for Baltimore City
Delegate representing the old 4th District and current 40th District of Baltimore City
Served in the Maryland House of Delegates from 1971-75 and again from 1979-83

Frank Conaway Jr.

Member of House of Delegates since January 10, 2007

Mary Conaway

First female and first African American Register of Wills for the City of Baltimore in 1982
Served as only the 14th Register for the City of Baltimore

Belinda Conaway

Elected to City Councilwoman for the 7th District in 2003
Expected to run for the seat her mother Mary vacated: Baltimore City's next Register of Wills in 2014
The Conaway Family: The 40th District