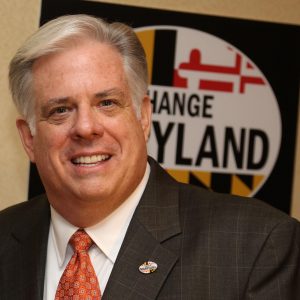 Civic Leader Larry Hogan (Lawrence Hogan Jr.) was born May 25, 1956 in Washington D.C. He is a Republican, who says he's not a politician, but a businessman. Hogan may run his campaign as a businessman, but politics is in his blood. He is the son of Lawrence Hogan Sr., who served as a U.S. Congressman for Maryland's 5th Congressional District and as a Prince George's County Executive. In 1974, Hogan graduated from Father Lopez Catholic High School and then went on to graduate from Florida State University in 1978.
He is married to Yumi Hogan, a Korean-American artist and assistant instructor at the Maryland Institute College of Art, and the father of three daughters. He is the president of Hogan Companies and he does not believe in abortion.
As founder, President and Chief Executive Officer of The Hogan Companies, Hogan has been a leader in economic development for over 25 years. Hogan has stated that he has brought hundreds of businesses and thousands of jobs to Maryland, so he understands how government policies should act on job creation.
Hogan always made it known how much love he has for the state of Maryland. Through 2003 to 2007, he took leave from his company to serve as a State Cabinet Secretary in the Bob Ehrlich administration. After the 2010 elections, Hogan could no longer stand back and watch the failed policies of the current administration, so in order to provide Maryland residents with the opportunity to hold their elected officials accountable, Hogan founded Change Maryland, which has quickly grown into the largest organization in the state. As chairman and founder, Hogan has been the leader in the effort to change the dialogue in Annapolis.
Hogan is all about creating more economic opportunities for local business, helping them grow and creating more job opportunities for Maryland citizens. He wants to lessen tax burdens here in Maryland in order to help local businesses stay up and running. 
Hogan has received major support throughout his entire campaign from New Jersey Republican Governor Chris Christie, who has visited Maryland four times including this past Sunday. Christie stated Sunday night, that Hogan is a man of his word. He has been watching all of the dedicated work Hogan has been doing to better the state of Maryland and that Hogan is exactly where he was when he decided to run for governor.
In this year's 2014 election for Maryland's governor Hogan is running against Democrat candidate Anthony G. Brown.