For Morgan State alumna Maysa Leak, returning to Baltimore isn't just about coming home to do another concert in another city, this particular city is special because it's home. It's where Leak first discovered what singing really meant to her. It's where she spent several years in college on the renowned Morgan State choir led by a special mentor who gave her an experience she cherishes to this day. It's the beginning of everything for Leak and she brings that in tow as she headlines a jazz concert with another Morgan alum. 
Leak, a graduate of 1991, will join Lonnie Liston Smith, graduate of 1961, for a jazz performance in honor of Morgan State's Sesquicentennial.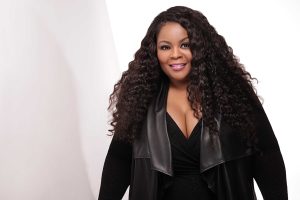 Leak was born and raised on the streets of Baltimore where she first found her love for singing.
"I had been singing since I was about two or three, but when I was six my mother took me to see 'Purlie', the play 'Purlie', down at the Morris Mechanic Theater," said Leak. "The thing of Melba Moore, when she came out on stage and she singing and there were all the lights and the music and the dancing and the stage, it was just overwhelming. I just knew that the feeling I got from her singing was the feeling I wanted to make other people have by singing."
Leak spent seven years on Morgan State's choir with Dr. Nathan Carter. Carter is someone that taught and influenced Leak a lot.
"I learned a lot, I mean a ton, from Dr. Nathan Carter when I was on the Morgan State University Choir for seven years. I stayed so much longer than I was supposed to because I just loved being on the choir, I loved the choir so much. It was just an amazing experience," said Leak.
While at Morgan, Leak prolonged her four year stay to seven because she temporarily switched her major to business before finding her way back to music.
"I got frustrated, I quit music and I decided I was going to be a business major. I went and signed up for school and took my first class in math or some kind of economical something," said Leak. "I failed everything and after that year I was like 'I give up' and I ended up going back to music. So that's when I went back to music and did my thing with music because that whole thing was not for me."
With the support Leak received from Morgan State, she gives back by participating with a WEAA fundraiser twice a year.
Other than her support at school, Leak, mother of one, also had a strong support system at home.
"First off, my parents, anything I wanted to do they were supportive. They would come to my talent shows at school and they just encouraged me to keep on and to live my dream. They made it possible for that to happen by supporting me emotionally, financially and everything," said Leak. "They helped me when I first moved to California, I didn't have any money but they gave me the money to get started out there. They were there, when I didn't have money I could call home and they would send me money and stuff like that."
Leak is currently on tour for her latest album "Love is a Battlefield" which is a cover album of songs she grew up with and listen to today.
"I chose the song 'Love is a Battlefield' by Pat Benatar to remake because of our political climate," said Leak. "When you think of people protesting and standing together to try and combat hate, which we have a lot of right now.  It just puts me in the mind of all the young people who are protesting against all the negative stuff happening in the world."
Leak wants her audience to use her music as an outlet to their life problems. She wants to act as a musical therapist for her fans and supporters.
According to Leak, this won't be what most students are probably expecting a 'bunch of old folkie music" but that is not the case. Leak just wants students the enjoy her music and have a good time.
'A Jazzy Sesquicentennial', hosted by the MSU Department of Fine and Performing Arts, will be held in the Carl J. Murphy Fine Arts Center, Friday at 7:30 p.m.
Here is a link to Maysa's lyric video for her single, 'Love is a Battlefield' https://www.youtube.com/watch?v=C0eweyN1ruo&feature=youtu.be