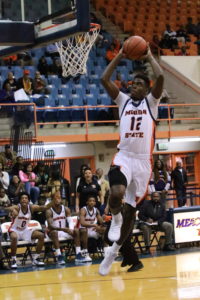 After having a 13-point lead diminish one in the final two minutes of Tuesday's game, Morgan State University's men's basketball team headed to the free-throw line needing two points and a defensive stop to win the game.
Freshman Stanley Nelson missed the front end of his two free throws and, with four seconds left, High Point University sophomore Anthony Lindauer got open and hit a three-pointer as time expired to give the Panthers a 62-61 win.
The Bears defense forced High Point into a mistake-filled first half, keeping them from scoring until nearly eight minutes into the half. The Bears also blocked three shots and took the ball away 13 times.
However, Morgan's offense endured similar issues, shooting just over 37 percent –14 percent from the three-point line – and their fair share of turnover problems. Junior Philip Carr kept the Bears alive in the half with 14 points on 6-7 shooting and a block, leading the Bears to a 31-20 halftime lead.
In the second half, the Bears got off to a quick start, extending their lead as high as 20 points. With just over five minutes remaining, and down 51-31, High Point put together a string of defensive stops and got several foul calls to go their way, en-route to a 30-10 run that put them in position for the buzzer-beating three.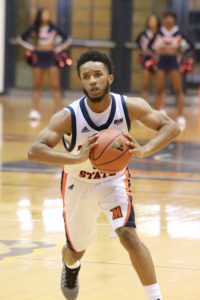 On top of losing the game, Morgan also lost leading scorer junior Tiwian Kendley to a dislocated shoulder during the game's waning seconds. The amount of time he could miss is still unknown.
The Bears players were not available after the game for comment. Head coach Todd Bozeman credited High Point for their comeback, but was not happy about the officiating down the stretch.
"We're talking about our own officials; they jacked us," he said. Bozeman pointed to the play where Kendley got hurt, which was ruled a charging foul on Morgan, saying, "He got a dislocated shoulder; you get that on a charge call? There's no way. It's not possible."
With the loss, the Bears are now 2-5 (0-0 MEAC), and will make a trip to Rutgers University before returning home to play Manhattan College on Dec. 6.[wzslider][wzslider]