When students step on Morgan State University's campus for the first time, many come from different backgrounds and for various reasons. Some want to get away from home, others search for friendships, and many come, simply, for the social experience, but they all have one common goal. That common goal is to graduate from Morgan State University and land a job in their field of interest. With that common goal in mind, one would think an office such as the Center of Career Development would have high traffic and their services would consistently be in use. Unfortunately, that is not the case, not in the least.
The Center for Career Development provides assistance to students and alumni to guide them through the career decision-making process. The CCD offers a wide range of free services such as career assessment, counseling, and through eBear a myriad of other hidden treasures. For example, the CCD has a Career Closet full of gently used business attire that can be taken by any student in need of business professional attire at no charge, students simply need to come to the career center and get what they need. Another service provided by the CCD that should have  much more widespread use around campus is the eBear platform.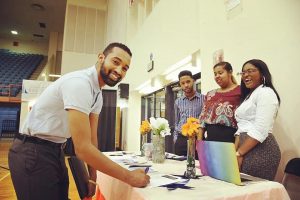 By signing up for eBear, students and alumni gain access to a job and internship search engine similar to CareerBuilder and Indeed. Also, through eBear they can build and revise their resume, keep abreast of the employers who are coming to campus for open interviews, and see a calendar of events hosted by the center. Seana Coulter, the Director of the CCD, said "it's embarrassing", when employers come to the University for interviews and not one student shows up. It is a bad reflection on the University. But the underlying question is, why don't students use the services provided? Here are a couple:
Location
The Center for Career Development is located in the Montebello Complex. Unfortunately, for students that building has a very negative stigma attached. They do not want to go there because of the distance. Also, when one thinks of that building often negative feelings dealing with the Financial Aid and the Bursar's Offices are arisen. While the CCD provides great helpful services students hear "Montebello" and are completely turned off.
Procrastination
An unfortunate reality on Morgan State's campus is that students often wait until the last minute to do things necessary to reach their goals. As stated previously, the overall goal in coming to college is to obtain a degree and land a job in that field post graduation. Often students in their Freshman, Sophomore, and sometimes even Junior year are not making productive moves towards that goal. Ms. Coulter has also expressed that many students that do use the services of the CCD often don't come until their Senior year or even post-graduation.
These two reasons for students not using the Center for Career Development's services do not outweigh the benefits they could potentially receive. Every student should be signed up for eBear. To sign up for eBear visit bit.ly/MSUebear. Follow the Center for Career Development on Instagram @msu_careerplanning or for further inquiries about services provided visit the website www.morgan.edu/careerdevelopment.