The controversy around the national anthem has made its way to Morgan State University, as two students have started a petition in order to change the way pre-game ceremonies should be held on campus.
"After learning the racist history of "The Star-Spangled Banner", we felt that students should be presented with another choice," said Kendra Hawkins, senior multiplatform production major. "We have to continue on what Kaepernick started," she added.
Hawkins is referring to the ongoing protest by NFL quarterback Colin Kaepernick and many other players, in which they kneel during the playing of the National Anthem.
The petition is asking for the addition of the black national anthem, "Lift Every Voice and Sing" to be played with the national anthem, not to replace it.
"We understand that we have many ROTC students as well as many former and current veterans as students and want to be fair and respectful," Hawkins said. "We also see this as a chance to educate the students that may not know about the Negro national anthem."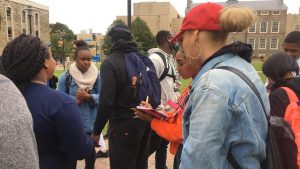 Hawkins spent an hour walking around the academic quad seeking signatures for the cause. She was surprised at how many underclassmen were interested and was only turned down once.
One of the signatures belongs to junior Taylor Davis who said, " I fully support Kaepernick's peaceful protest and believe this suggestion would work at all HBCUs."
After all the signatures are collected the two students plan on presenting the results to president David Wilson and the administration. They will also approach the music department to get the band involved in organizing and executing the new plans.
Hawkins will back in the academic Friday at 1 p.m. for more signatures.