Morgan State University recently named a new Miss Morgan State to its royal court for the 2016-2017 academic school year.
Kayla Natae Lawrence, a senior strategic communications major, replaced Chelsea Johnson after she resigned to pursue an internship opportunity at ESPN.
Lawrence is from Elizabeth, New Jersey, a predominantly Hispanic city. She describes herself as a young, "vibrant-but-quiet, African-American girl," who loves spending time with friends and family. Upon being named to the royal court for the first time in her collegiate career, she explained her reaction when hearing the news was being scared, not of filling Johnson's shoes but of the campus's reaction.
"I didn't run for Miss Morgan. I ran for Miss Senior; I sold myself to the senior class," Lawrence said. "As far as the campus as a whole, I wasn't sure if they would be receptive of me, but so far I've been shocked. It's amazing to see how many people support you just by understanding the type of person you are."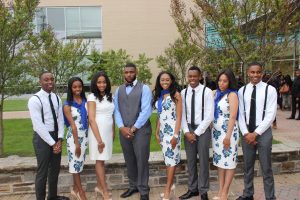 However, while she questioned the outside reaction, the inside reaction was very smooth; Lawrence's fellow court members welcomed her with open arms. "Because we already had our own culture with me as Miss Senior and Chelsea as Miss Morgan, it was a very easy transition because it wasn't somebody new stepping into the leadership position," she explained. "We had time over the summer to bond and understand our dynamics as a whole, so they've been pretty welcoming."
Lawrence said that she and Johnson would keep in contact with one another throughout the process. As for the vacant position of Miss Senior, she said that the senior class president and vice president would be in the interviewing process with potential candidates in the coming days.
As for her plans for the university, Kayla said she looks forward to serving Morgan to the best of her abilities and that she plans to execute the campaign she laid out as Miss Senior.
"I plan on actually showing [students] that once you tap into your power and let go of whatever fear that's holding you back from doing what you truly want to do, everything else will follow and you'll start reaping the benefits of your labor," She concluded. "I'm living proof of that campaign, which I never thought would happen."