Hip-Hop was born in the concrete jungle of the South Bronx. Jazz got its start in the bowels of New Orleans.  The Nation's Capital is the home of a genre of its own; a gumbo of hip-hop, funk and R&B called Go-Go.
The exact year it was created isn't exactly clear, but one man is given sole credit. The "Godfather" Chuck Brown, originally from Gaston, North Carolina, widely observed as the king of go-go.
The various bands and colorful characters of go-go have managed to take it to unimaginable heights over the last 50 plus years, establishing it as a respected genre of music. While some of the most popular bands never escaped the D.C.-Metropolitan area, others took the sound across the nation.
Acts like Junkyard Band and Rare Essence forced American music consumers to take notice with a multitude radio hits such as  "Work the Walls," "Overnight Scenario," and "Sardines." There was a time when every car in the area would have a go-go song coming out of the speakers, but that time has passed.
The decline of go-go has touched more lives than anyone could have imagined half a century ago.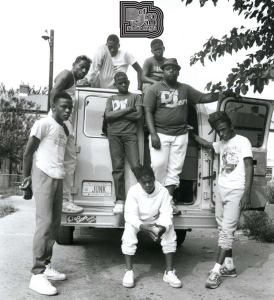 Colleges in the United States are filled with students from all parts of the country who are exposed to different cultures from food, fashion, music and dialect.
In the past, Morgan State students were fond of go-go. The influence of students coming from D.C area forced the school and party promoters to throw go-go's, paying bands to make the trip up to Baltimore. Whether the party was on or off campus, DJ's would play the latest go-go tracks from the biggest bands for the D.C area students.
Second year graduate student Donika Gibson remembers a time when go-go was a way of life. "We would have go-go's five to ten times a semester; even people from other cities would come," she said.
However, changes at home have had a lasting effect on how students feel about the genre. Many fans of the genre place the blame on some of the most popular establishments to host go-go's closing down. Increased incidents of violence have been cited as to why some of these places have closed their doors.
With a lack of venue, bands suffered to find places to showcase their sound. Gentrification has displaced many of the city's African American residents.
Others blame the decline of go-go on the resurgence of rap in the area. Artists like Wale and Fat Trel have managed to achieve national notoriety, resulting in much of the area's youth have followed suit. Artists who would have played the keyboard or been the lead singer for a go-go band are now rapping or producing.
Morgan State began the last two school years without a go-go, something that hasn't happened in a long time.
According to senior Gus Greer, go-go used to be in "high demand" on campus. He believes that the culturally rich genre of go-go is taking a back seat as music has evolved over the last few years
"I don't think go-go is going anywhere," Greer said. "Music is changing and sounding different now and everybody is starting something new. But it will still be around, especially in DC".