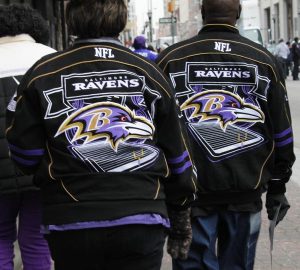 It's been a long week of praise, reflection, and excitement in purple town. Last week, a reported 250,000 people showed their support for the Super Bowl champions at a massive parade. Die hard Baltimore Ravens fans ruled the day–and if there are any residents out there who aren't fans, they had better keep those views to themselves. Still, it's the ownership, not the fans, who make the next move and they will have decisions to make with every key position.
Super Bowl XLVII MVP, Joe Flacco, is at the top of the list, having one of the most sensational,  under-the-radar postseasons ever for a quarterback. Flacco posted 11 touchdowns with no interceptions and no one seems to care. He has the most road playoff wins in postseason history and no one seems to notice. He is the first quarterback to have a passer rating over 100 in all four games of a single postseason and can still walk in on Pro Bowl Sunday and be handed the clipboard. In completing his rookie contract, it's safe to say his pay day will come, but is $20 million a year too much for the forever debated, elite quarterback inductee?
Flacco's two trusted targets WR Anquan Boldin and TE Dennis Pitta also provide great questions for the front office. Boldin is that sustained target the Ravens had hoped for back in 2010. But three years later, with money needed elsewhere at other positions, owners will have to decide if the 32 year old is worth the $7.5 million he's scheduled to make next year if he isn't released. Vowing he will retire if released, Boldin remains a consistent option in an offense that becomes sporadic at times.
"I won't play in another uniform," Boldin said during an interview with Pro Football Talk. "We have a saying, 'Once a Raven, always a Raven.' And I'll always be a Raven." That leaves the door open to whether he will be so candid in renegotiating his contract at a lower salary to give the Ravens more money to work with this offseason.
Caught in a similar situation is Flacco's close buddy Dennis Pitta. General Manager Ozzie Newsome struck gold stealing Pitta in the fourth round of 2010's draft and now he's looking to capitalize on it. Pitta would like a contract reflecting the progress he made throughout the past seasons. With teams wanting to get the most bang for their buck, Pitta is sure to have a bundle of suitors competing for his 6'4 frame and sure gloves this spring.
Problems arise on the aging defense as well as with the unquestioned leader and spokesman for Baltimore, Ray Lewis, who is heading into retirement and possibly a broadcast career. The Ravens will have to find a way to replace the middle of their once stabled front with no guaranteed replacement in the horizons.
And things just got worse. Future Hall of Famer Ed Reed just completed an six year, $44 million deal which is likely to be his last multi-year contract. Rivals like the New England Patriots and Indianapolis Colts have been rumored to be interested in the once, all-pro safety. Some Raven fans feel Reed has more game-changing years in him, despite injuries, and would be distraught to enter the season without him. As the saying goes, it's business and never personal. That's the approach Newsome will likely take this off season.
Newsome was caught in the same dilemma during the city's last Super Bowl run in 2000. His aggressive decision making resulted in a consecutive playoff berth but didn't pay off with another Super Bowl berth. He insists he has learned his lesson and will not look for any quick fixes to please fans. His goal is long term success by building from within.
What those decisions will be is hard to pinpoint. But fans would like another year to gloat. Newsome will have some issues to address and some opportunities to seize. As general manager, his job becomes extremely difficult as he strives to lead the Ravens into the post-Ray Lewis era. It would have been easier to let go if the Ravens had lost in the early rounds. Now that fans are enjoying February fever throughout Charm City, they are all eager to know what's next.