Morgan Bear J. Miles drafted by Arizona Cardinals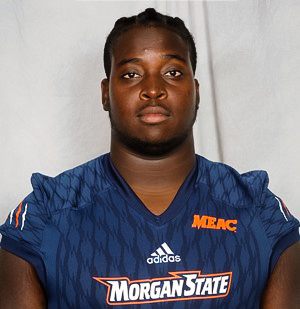 Morgan State University's Joshua Miles was drafted to the Arizona Cardinals Saturday, April 27, as the 248th pick in the 7th round.
Miles is the first Morgan player to go professional since Visanthe Shiancoe in 2003.
Once it got late in the draft and Miles saw that he was yet to be picked, he had a feeling that the Cardinals would pick him up he said.
"The whole thing was crazy at first because everything that I worked for came true. My mind started racing, but I got a call from the Cardinals manager and head coach and they told me they were going to draft me," said Miles.
He was the first Bear selected to play in the East-West Shrine Game with the best in the country. He then got an NFL combine invite and there he had the highest recorded vertical jump among offensive linemen.
Miles is coming off a 2017 season where he was declared academically ineligible to play and now he has had one of the best seasons of his collegiate career.
The team he was selected to, the Cardinals, had one of the worst offensive lines in the NFL last season. Miles believes that he can help turn the organization around fast.
"I want to come in and make an immediate impact. I want to contribute immediately even if that means not starting for the first half of the season," said Miles.
This team is also the home of NFL veterans like Chandler Jones and former Raven Terrell Suggs. With these players lined up on the opposite side of the ball, Miles looks to gain to some experience from practicing against them.
"I think working with these guys will help me adjust to the speed of the NFL because here I'll be going against the best of the best of the best."
Miles is aware that the transition from collegiate athletics to pro athletics will not be an easy one. One thing that he must get familiar with is the new playbook system. He explained that it'll be "more extensive than Morgan's." However, this won't deter his confidence because he's ready for the challenge ahead. "I can't wait to get to work," Miles adds.
Miles describes himself as "the kid that grew up in Randallstown," but now "that kid" is getting recognized by major sports analysts around the country. He received a shout out last week on sports talk show Undisputed. The show includes former NFL tight end Shannon Sharpe and sports writer Skip Bayless. "That guy from Morgan is going to be lit," Sharpe said.
Miles saw the show and immediately felt good about it.
"Shannon is a guy with an understanding of football and he also has professional experience. I definitely appreciated the shout out."
Getting drafted from a small school opens the door for other small HBCUs around the country and it also shows that dreams can come true. He believes that athletes can achieve their goal of going pro through incredibly hard work and prayer.  
"You can do it, it's very doable but it'll take a lot of hard work and effort," he explained. "I put everything into this season, and I took care of what I needed to do. Apply complete focus and work as hard as you possibly can."
Although rookie quarterback Kyler Murray took many of the headlines surrounding the Cardinals organization, Miles wants people to look out for him in the future. He plans on having a super bowl ring and pro bowl selections.
"I want to do a lot with this platform."