The bell rung for the final time in the life of boxing icon Muhammad Ali on June 3, leaving the world to reflect on the legacy of one of the most venerable figures of all-time.
Ali is credited with fighting 61 bouts, winning 56 and losing 5 while remaining the only three-time lineal world heavyweight champion in boxing history.
However, history presents a plausible case that his biggest victories were outside of the ring.
From fighting for the respect of changing his name (Cassius Clay), faith (Christian to Muslim) and health (Parkinson's Disease), Ali took on more formidable opponents than the world of boxing could possibly muster. An immortal figure, Ali's story has been documented in textbooks, documentaries and feature films for decades, etched into minds across the globe.
I wasn't alive when Ali won his first championship in 1964 over the favored Sonny Liston, and I wasn't when a shell of him lost his last fight to Trevor Berbick in 1981. But like those before and after me, I had seen and heard stories, watched grainy footage of his legendary fights and memorized his infamous taunts and chants.
I came from a family of boxing fanatics, the nephew of a Golden Gloves contender and a slew of other relatives that considered themselves cognizant of the sport. The women and men in my family witnessed Ali firsthand, standing in solidarity with him for his fight for black advancement and rooting him on as a fighter. By the time of my birth in 1990, Ali wasn't close to his once charismatic, jubilant self, battling Parkinson's round-by-round.
Nonetheless, I was taught of his excellence in and out of the ring, given a copy of author Harry Mullan's The Great Book Of Boxing at just 4 years of age to read. The book details the journey of boxing in all weights and classes, complete with extraordinary photos and quotes.
Ali made an appearance at Roosevelt Field Mall in Long Island, NY just minutes away from my hometown in Queens in 1994. He was taking pictures with fans and signing autographs, so my uncle made it a goal to take me to meet him. When we got to the Macy's where Ali was located, the line was circled around aisles and racks of clothes with eager fans.
After a short wait, Ali greeted my uncle with a handshake. I stuck out my tiny hand, waiting to be embraced when he picked me up, kissing both my cheeks while forming a smile.
My displeasure of being kissed was evident as the photographer snapped the photo and we went on our way. Unbeknownst to us, the photo was used by the New York Daily News, the feature photo of the previous day's event.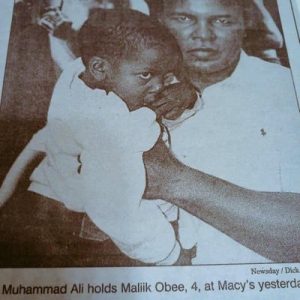 At the age of 4, I didn't understand how pivotal the moment was, despite the elation of my family. My mother and relatives bought several copies, preserving them in storage and reminiscing on the moment for years to come.
As I grew older, I grew to understand Ali's legacy more, growing to appreciate his perseverance in and out of the ring. It wasn't until I was a young adult, faced with the same rigors that Ali once fought for, that I came to truly appreciate Ali the man.
I've taken photos and received autographs from many of my sports idols, and even got to interview some as an aspiring journalist. Yet none have meant more to me than that moment with Ali. It is even more incredible to me considering the increased deterioration of his condition shortly after my chance encounter.
Ali granted the world one of the most monumental moments in sports when he carried the torch at the 1996 Olympics in Atlanta. His arm shook uncontrollably as an effect of his bout with Parkinson's, yet he managed to carry the flame of a nation that once turned it's back on him.
Had I met Ali a year or two later than when I did, there would be no way possible for him to muster the strength to pick me up as he did. He also would become even less of a public figure until the point of complete recluse.
If I could do it all over again, I would thank him for the courage he possessed, giving people like me more courage to be who we are without fear. The legacy of Ali can never be duplicated as a person and certainly not as a boxer.
Legends Never Die.