Write-In Candidate Shawn Z. Tarrant Fires at Fellow Veteran Delegate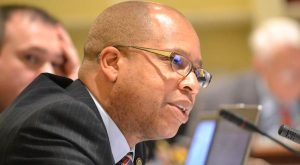 Two-term delegate Shawn Z. Tarrant, who is running a write-in campaign for re-election, isn't silent about his dissatisfaction with either Del. Frank Conaway Jr. or the two-term delegate's YouTube videos.
"It's not the topics of his videos, it's how he's addressing the in a rambling fashion and an incoherent fashion that made people call up and say, 'Delegate Tarrant, you must get back in there, you must fight for the people, we love you, we don't know how it happened,'" he said.
 Conaway has served eight years in the General Assembly and won his second term in 2010.
This year, however, Tarrant finished fourth in a ten-person race in the Democratic primary to represent District 40 and was eliminated from the field of candidates for the party nomination.
 Conaway released over 50 videos during a period of  several weeks on YouTube, many of them relating to his book "Baptist Gnostic Christian Eubonic Kundalinion Spiritual Ki Do Hermeneutic Metaphysics: The Word: Hermeneutics."
The book compares the spiritual approach to study of the Holy Bible under Rev. S. Green's Baptist Temple to martial arts. Tarrant believes it is possible that Conaway filmed the videos while he was in office during his hours.
 "If they were no big deal why did he take them down," he said. "There's something up with that if you can't leave those things up there. Anything that I have of me that's on my webpage stays up there."
Conaway took down his videos on Oct. 22. He said the videos were not filmed in the office. Conaway declined to comment to the Baltimore Sun on Tarrant's write in.
One of his videos is titled "Conaway globe."
"You go to the store, you get a globe, fill the globe up with foam…let the foam get hard…now the hard part is when you have something like the Himalayas go up. That's going to be hard. But it doesn't have to be," he said in the video.
Five of the eliminated candidates for the District 40 seat–Douglas Barry, Marvin "Doc" Cheatham, Quianna Cooke, Rob LaPin and Bill Marker–are endorsing Tarrant's write-in campaign.
"This is not just a Sean Tarrant thing. You have people who actually ran in the primary who are not friends and have become acquainted in the last couple weeks- but they're not people who I knew."
Tarrant, a member of the House of Delegates since 2006, is the current chief deputy whip. His target issues include advancement of minority- and women-owned businesses and extending MARC train services to enhance both job opportunities  and late-night travel hours. He has also said Conaway is "not fit to serve."
"Annapolis is a place where you have 141 delegates that are from all over the state of  Maryland, and if you have a delegate that is not respected by the colleagues and they don't work with him and they're not moving up in any way of leadership, then that hurts Baltimore City."
"I've done a lot different [from Conway] in the past years. I was the past neighborhood president so people know that and respect that."