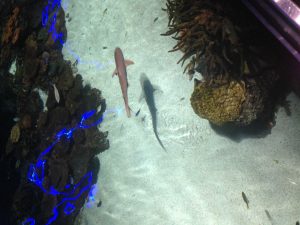 By Ja'Von Hill, Zanha Armstrong, Valentin Davis
On Nov. 4 voters will decide whether the National Aquarium will receive up to $800,000 in funds towards acquiring land or renovating its existing structure.
The Aquarium joins the Baltimore Museum of Art, the Walters Art Museum, Port Discovery Children's Museum, the Recreation and Parks Department, the library and the Baltimore City Schools with bond issues on the ballot this week. Although the Aquarium is asking for more money than any other cultural institution, it is requesting far less than the $47 million Parks and Recreation has asked for or the $34 million Baltimore City schools bond issue on the ballot.
If the Aquarium receives the money it plans to renovate the Chesapeake Bay Wetland exhibit, one of the oldest exhibits at the Aquarium.
"The Mid-Atlantic seashore is a local aquatic treasure, and a seemingly familiar place to many," CEO John Racanelli told The Baltimore Sun in August. "But as our guests will soon discover, fascinating stories await them; stories of the secret lives of seashore animals and plant, as well the people who are dedicated to keeping our beaches and coast healthy."
The "Living Seashore" exhibit will take up approximately 2,700 sq. feet and be located in the Aquarium's Pier 3 Pavillion. The exhibit is expected to open spring of 2015.
"I'm excited to see the changes that will be made," said Valita Robinson who was visiting the Aquarium on Saturday.
Last year the aquarium's total income was $51,543,576 with $8,881,808 coming from contributions and grants.
The National Aquarium is a nonprofit organization that accepts donations in order to preserve and protect aquatic life.
Visitors are invited to pledge to protect aquatic life at the "Living Seashore's" digital Shore Hero Conservation Station next year.
Photo by Ja'von Hill