Straying from her usual turkey sandwich, Shirleyanna Davis, a junior psychology major, decided to get a crispy chicken sandwich with extra honey mustard, lettuce, tomato and peppers on a roll from the Student Center food court.
After consuming the sandwich, she became sick and threw up, twice, according to Davis. After telling her friends Dasianna Coates, a junior psychology major, and Kardel Howard, a junior electrical engineering major, they decided this was unacceptable and it was time for a change.
"We don't pay to get sick, we pay to eat good food," said Coates. "And we realized we've had this conversation before; we've went to administration, we spoke to the people that we were told we need to speak with and nothing changed."
"The quality of food is honestly terrible," said Howard. "Like there's been numerous times where I have bit into a sandwich and the meat is either gray or pink, moldy bread, either the sauce is not cooked all the way or it's just something in the sauce because when I've gotten sick from the food it's when I've had rice and gravy. That's when it started for me."
With the sending of a few text messages, a protest was organized.
Wednesday night in the University Student Center food court, over 40 Morgan State University students gathered to discuss the poor quality of food on campus, in both the food court and in Rawlings Dining Hall, and how they planned to change it.
Coates, Davis and Howard also shared a list of demands they prepared with the other students. Among the demands, they listed access to free alkaline water, reforming customer service training for cafeteria staff, higher quality food and vegan and vegetarian options.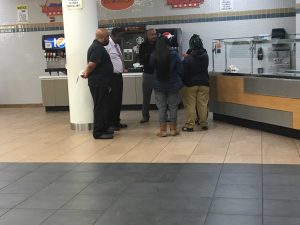 As the three organizers spoke with managers of the food court, students continued to share their grievances and stories.
Apryl Hubert, a junior family and consumer science major, shared her friend's experience with food court food from when she found a spider's nest on her sandwich.
Conditions of the food are so bad that Zion Diggs, a junior strategic communication major, would rather pay to eat at Towson University than use the meal plan she has already paid for.
A number of students, like Davis and Howard, were out of state students that pay more for their meal plan but don't feel as though the quality is up to par.
"Being an out of state student, I pay entirely too much to get this food and it's not like I can go grocery shopping because at the time, I lived in a traditional dorm. Even now, I'm involved in so many activities on campus where I don't have time to cook and I should be able to rely on the food in the food court and in the dining hall," said Howard. 
As the time passed and the clock got closer to the 11 p.m. closing time for the food court, the gathering turned into a sit-in. Then the MSU police officers warned that they would have to escort students out that would not leave. Most of the students had no intention of leaving until they felt as though changes were going to be made.
Davis advised students to remain peaceful and to, in no way, confront an officer.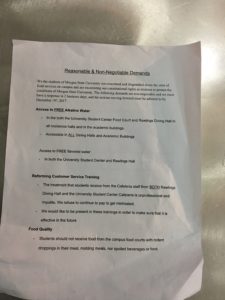 As intensity rose in the food court, Joy Barnes, student government association vice president, stepped in to calm things down. With one phone call, Barnes arranged a meeting with President David Wilson for the three organizers to express their concerns and demands.
Even though the sit-in came to an end, the battle is just beginning for these juniors.
The students were also prepared for a hunger strike. According to Coates, a vegan restaurant owner, Juan Nance, has offered to provide food for three to five dollars during the strike.
"When December 18th arrives and they're not telling us the things that they're going to do and actually seeing that action, that's when it starts," said Howard. "And we will communicate it through the masses of our campus and it will be known that 'hey, we're not going to eat here, and we have other means of eating other than the food court and the dining hall.'"
"We just want better quality of food and the simple fact that we have to starve ourselves to get it, that makes no sense," said Davis. "Like the efforts that we have to go through, that we will go through, just to get better quality and I'm actually paying for great quality."