Temporary housing has been activated for about 70 female students as Morgan State University negotiated rooms at the Radisson hotel four miles from the main campus in the wake of the housing waitlist issue. 
This semester, MSU has seen an increase in enrollment and have overbooked their dorms leaving students without a room on campus.
This has left students and parents frustrated about how something like this could happen. There is also a lot of confusion from students that were in the Center for Academic Success and Achievement (CASA) program.
Claudice Joseph, a freshman nursing major from New Jersey, is staying at the hotel and was part of the CASA program.
"I did CASA so I went through a whole program where I had to pay $605 and it was just like I sacrificed a lot of stuff to get here in this position," said Joseph. "I just felt frustrated because we went through this whole process for us not to get housing and then I feel like it was kinda unorganized but I'm glad they found this kind of medium."
To get to and from their classes, the students are provided a shuttle that goes straight to the main campus. The last shuttle leaves campus at 10 p.m.
"We're hoping to have something done within three weeks but it could be longer," said Kevin Banks, Vice President of Student Affairs about the housing issue.
Some waitlisted students are better than others because they have family in the area to stay with and commute.
Diamond Jones, a freshman psychology major from Prince George's County, was able to stay with a relative while waiting for her housing issue to be resolved.
"It's not that bad but it's frustrating because when I'm at my aunt's house, she stays in Baltimore so it's like 20 minutes from Morgan but taking the bus, it takes an hour," said Jones. "And then the bus doesn't always come on time. So if I'm late to class then it's just kinda not my fault."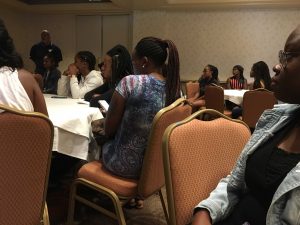 The hotel housing is only temporary but it comes with some rules. The students in the hotel are not allowed to drink or smoke, students must sign in and out of the hotel as they come and go and they can not have any guests from the main campus in their rooms.
"It is what it is, I know it's not ideal but right now our goal is not to have you here long but it's hard to manage a lot of students coming out here to have socialization," said Banks.
According to Banks, other guests makes it harder for the hotel to manage because they only know what students are registered to be there.
After asking questions to Douglass Gwynn, the director of the Office of Residence Life & Housing and Banks at the hotel, the parents parted ways from their children while still expressing disappointment in the issue.
"It's been frustrating. It's like I'm glad because I want her to go to Morgan, so I'm glad that they came up with something," said Shayla Thomas, mother of freshman Darria Thomas. "I just wish that they had come up with this last week instead of today."
Darria was also a student in the CASA program who, along with her parents, was under the impression that she would be guaranteed housing.
"That's the frustration, because we thought that as soon as she finished, she would be able to come back after being home for a week and then come back and then we got that call that she didn't have housing," said Shayla.
Darria's stepfather, Keith Brown, also had frustration with the way MSU handled the housing issue.
"My issue with the school is they actually was making an effort to not do anything about housing until you complained," said Brown. "Like, nobody gave us any help or nothing until I started calling, complaining and yelling at the director of housing."
The housing staff assured parents that professors have been notified of the housing situation to avoid further discrepancies for the students in the classroom.
Brown, Shayla and Darria are from Waldorf so commuting was not an option and like many other waitlisted students, Darria missed the first week of class.
"I just think it's crazy, it seems like they don't care, either they don't care or they're just trifling," said Brown. "If you're going to end up having to go the hotel route, why don't you book the hotel before school even start?"
Jacqueline Bell, mother of freshman Jalena Findley, saw the brighter side of the students at the hotel but also echoed anger in the matter.
"I'd rather her stay at this hotel than any other hotel, one thing because it's gated, it's pretty secure. You can't really walk off the street and walk in because at night it's only one entrance in," said Bell. "The only thing that I'm upset about is because the whole week they were there, they weren't allowed to eat."
While students are at the hotel, their meal plans have been activated so they can now eat on campus.
"So once we confirm everybody, get them placed into on campus housing we will prorate from that date basically two weeks the cost of room and the cost of board," said Gwynn.
There are two beds and one cot per hotel room. Options for the students to do their laundry are being explored.
Morgan State University Police Department will be present on the hotel premises.