Morgan State University professors had a common goal in mind when visiting the National Museum of African-American History and Culture with their students: shedding light on the museum's significance and influence on the university.
Professors Baruti Kopano, Ph.D and Laura Dorsey-Elson, Ph.D of the School of Global Journalism & Communications, as well as professors Adam Mekler Ph.D and A.J. Verdelle Ph.D of the English department, said that the museum and the University have ties in the idea that they both tell the same story.
"This museum is part of the story of America," Kopano explained. "What we're doing [here at Morgan] is shedding light to that story. We're sharing that story as well as learning from it."
Dorsey-Elson added to that, saying, "It tells the story of what birthed Morgan, and what it continues to birth as well as the the black community's trajectory and where we're headed."
The museum featured a section dedicated to black colleges and universities that included a picture of the Morgan State marching band from the 1940s, but that wasn't the only exhibit. There were lots of halls that contained authentic artifacts significant to black entertainment and culture (Afro picks, origin of greeting gestures, etc.). The exhibits were from time frames dating all the way back to the 1400s.
"Seeing one side of the world from an African perspective and from the European perspective, I thought it was really interesting," Mekler said of the tour.
As for the other professors, what really stood out wasn't just the artifacts themselves but the people looking at them.
"I saw a little white boy looking at a box in which they put African children in to sell them, and he asked his mother what that was for and she struggled to tell him," Kopano said.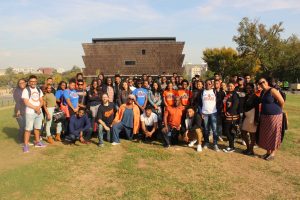 "There was a photograph [in the HBCU section] from Howard's band back in the 40s or 50s, and one woman looked at the picture and said 'There's Stanley!' She was looking at her friend in the history exam. It was really interesting," he added.
Overall, every professor agreed that this museum was a gem. Verdelle proclaimed, "One day, our students will be taking their kids to this museum."