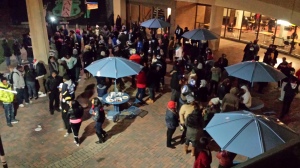 (Baltimore, MD) – Morgan's Gamma chapter of Phi Beta Sigma celebrated its 27th annual Sleep in for the Homeless event on Friday, November 14th. The event ended at 2 a.m. Saturday morning, the official start of National Homeless Week. The mission was to raise awareness of homelessness in the community.
The event started at 9 p.m. in front of the McKeldin Center at Morgan State. About 50 Phi Beta Sigma members, Morgan students, community members and alumni gathered in front of Morgan's McKeldin Center, bringing with them bags of clothing and food for the homeless. Event goers braved chilly temperatures as they listened to live music, danced and even received a free meal as they showed their support.
"It's cold outside. Everybody likes the cause, but if you want the numbers to be here to make a difference you're going to have to have something to bring people out here," said Joe Young, a Sigma Alum. "Like tonight we have a DJ, plenty of food, and fellowship for everyone. This is a big thing."
The Sigma's have been advocating for homelessness for the last three weeks, handing out flyers and collecting clothing from all parts of the community. The volunteers collected money, clothing and food donations from local communities such as Morgan View dormitory, North Wood apartments, and other buildings surrounding around Argonne.
"These are the type of things you should be doing [as a student]," said Young. "The community is a part of Morgan and Morgan is a part of the community, so we have to make sure we look out for each other."
Friday afternoon the chapter posed as homeless people in the student center to raise even more awareness.
"Once it gets cold outside because they [the homeless] don't have anywhere to go, maybe a shelter, but outside of that everyone else is huddling together to keep warm," said Young "Most people, if they are going to come out, they are going to bring a donation. That's why this is a big thing."
"I donated sweatpants, long-sleeve shirts, sweaters and scarves," said Danyell Owens, a junior nursing major. "I came out because it seemed like something fun to do."
In October, the same chapter members fed homeless people near Baltimore's City Hall. They also handed out literature about different shelters and other useful resources.
Participants said it was particularly important as the holidays approached to make sure the homeless were cared for.
In previous Sleep in for the Homeless events, the chapter received over 200 pounds of clothing donations.
"[Phi beta Sigma] are one of the more socially conscious organizations. I love these guys, they are cool," said Mrs. G, who worked at Morgan State for 40 years before retiring recently. "The young people of Morgan State have done what they have been asked to do. A young lady brought in all these tennis, sneakers in things for the homeless, and now they are hanging out with their peers."
At 11:30 p.m. people were still dancing, socializing, eating and bringing donations.
"You know!" shouted one Sigma, as the group formed a chain of members and marched around the courtyard. Music was still blaring through the speakers and groups of friends huddled around and danced.
Many people were bundled up with gloves and scarves but showed little concern for the cold.
"We have already been out here for an hour and a half," said Owens who also donated a bag of slightly used clothing to show her support for the cause.
Others were less enthusiastic about standing in 34 degree weather for too long.
"I came to support my brother and what he is doing, but I will probably only stay another 15 minutes," said a Morgan senior who did not want to give his name.
No matter the length of time supporters stayed out with the Alpha Phi Alpha chapter of Phi Beta Sigma, the most important action was donating and raising awareness.
"People are here to get a college education, but you never want to get out of touch with your community," said Young. "At a historically black college, you want to look out for the black community. This is just a part of what we [Phi beta Sigmas] do," said Young.
"I will say again, we rose to the occasion. Phi Beta Sigma is to be commended once again," Mrs. G chuckled. "And that's all I have to say."
Photos by Meaca Downing