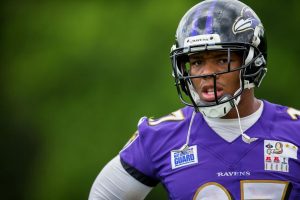 The backlash after the reveal of Ravens football star Ray Rice's full video of his domestic violence attack and his suspension from the NFL indefinitely on Monday still remains a discussion topic in the halls of Morgan State buildings.
"He was wrong; he shouldn't put his hands on a female like that, especially on the first strike. She didn't even hit that man first," said senior and Ravens fan Rashaad Stinette.
Original footage of the attack released in February showed Rice dragging his then-fiancé Janay Palmer out of the elevator at Revel Casino in Atlantic City.
"Sure, it's justified. No man should hit a woman," said an intern for the Ravens Marketing team. Yet he says in his intern office, there were more supporters of Rice than of the NFL's decision. "There was a lot of support, people felt like he was wrong but his penalty was harsh."
After the altercation, the couple was arrested for assault-domestic violence. Rice's attorney described the fight as "a very minor physical altercation." He was originally suspended for two games and fined $500,000. The Baltimore Sun reported that just six days later, the couple wedded. He entered a pretrial intervention program in late May.
On Tuesday, Janay Rice responded to the emergence of the full video on Instagram. "If your intentions were to hurt us, embarrass us, make us feel alone, take all the happiness away, you've succeeded on so many levels."
"She's kind of brushing it under the rug. She's going through something within herself so I don't think she should blame the media," said senior Shanell Sterling. "I think that the way she took on the whole thing was kind of backwards. She's making women look kind of bad."
ESPN, CNN, ABC, NBC, Fox News channel and Fox Sports announced they would stop playing the video unless there was new reason to.
Nike has dropped Rice's endorsements and the Ravens plan to offer a Ray Rice jersey exchange. Other retail stores like Dick's and Modell's will pull his jersey from the shelves. EA Sports Communications announced that it will remove the player from Madden NFL '15.
"[Losing] endorsements was a given," said Stinnette. "Everyone knows when an athlete gets in trouble their endorsements are dropped immediately, that's an automatic. That's actually the lighter part to me. I think he can get all that back next year or so if he restores his reputation by giving to domestic violence charity groups, etc."
"The fans might as well give back their jerseys. I mean he doesn't play for our team anymore, it's no point in them keeping the jerseys," he continued.
Other students question if race was a factor in the NFL's decision making. "Ray Rice was defending himself and now he's suspended indefinitely in the NFL, so I don't know," says senior Lane Johnson. "I don't want to pull the racial card but I don't know if he was white would he still have a job?"
Photo by the Baltimore Ravens.