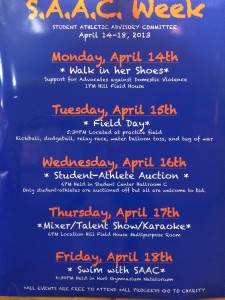 Morgan State's Student-Athlete Advisory Committee (SAAC) will be hosting its 3rd Annual SAAC Week starting on Monday, April 14 and running through April 18. Events include a field day, a student-athlete auction, a mixer/karaoke night and an afternoon of swimming with SAAC.
"I think it's important to build a better relationship between athletes and non-athletes," says SAAC president, a senior, Ngebui Chafeh. "A better understanding will help with support at more athletic functions."
Chafeh founded SAAC week her sophomore year. Since then it has grown and every year sees improvement and a better turnout. According to Chafeh, more than 200 people participated last year. This year she hopes to double that number.
SAAC is comprised of Morgan student-athletes who meet regularly to discuss a wide range of topics including practices, records, complaints, upcoming events and game days. But SAAC week is the organization's biggest project.
SAAC hosts a different activity each day of the week such as Field Day, when student-athletes, as well as non-athletes, are invited to participate in dodge ball, tug-of-war and relay races.
The committee added a mixer/karaoke to the schedule this year to encourage students to come meet with student-athletes and have fun.
Each year, SAAC tries to boost participation but also promotes good causes. This year is no different.
"Walk in her Shoes," an event aimed at raising awareness about domestic violence, will take place on Monday. Male athletes will wear women's sandals or heels and walk from Hill Field House to Holmes Hall wearing the shoes.
"Our goal with this event is to raise awareness. Domestic violence happens too often in relationships, even in college," said women's basketball sophomore, Dinah Jones.
"The purpose of the men wearing heels is to get them to look at things from a woman's perspective, to better understand our struggle and try to relate."
"SAAC week is an interesting concept. I think the idea of student-athletes hosting activities anyone can participate in is a good idea," said sophomore, Samantha Prescott. "It lets others know we [athletes] are still students just like everyone. It's also a great way to meet new people who we ask to come to sporting event later in the year."
Several athletes are excited for SAAC week. Non-athletes as well. "This is going to be interesting," said junior Simone Durham. "I have a lot of friends who are athletes, so going to the events isn't a big deal for me, but they sound really fun."
"We hope to see many new faces during SAAC Week," said Chafeh. "All are welcome. Come have fun with Morgan athletes."
All events are free for current students.