Largest Morgan student protest 33 years ago, where are we now?
In March of 1990, a majority of Morgan State students participated in protests against the state of Maryland, protesting campus conditions, legislative proposals, and faculty treatment.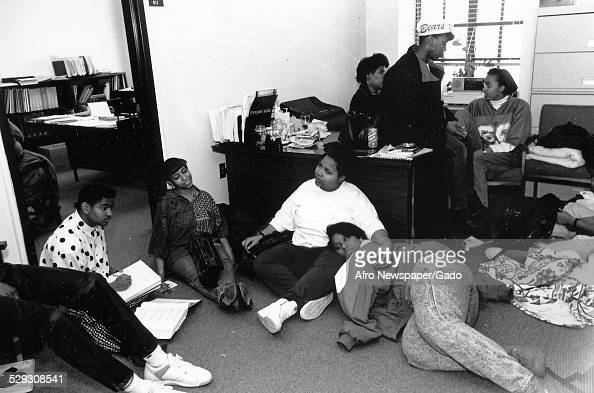 In a collective effort between National Pan-Hellenic Council (NPHC) organizations, student government leaders, and other student organizations on campus, a protest that would become almost a month-long was organized. At the peak of the protest, 200 students slept in Truth Hall for a week while over 1,200 students participated in shutting down the campus.
Among the students' list of demands were improvements to security on campus, better financial aid packages, improvements to dormitory and academic buildings that had roaches and crumbling walls, longer nursing office hours, and the reinstatement of eliminated faculty positions.
In an interview with Travis Mitchell, then–student spokesperson of the protest, Mitchell said that legislative proposals in the State House that included adding Morgan to the University System of Maryland and a proposal to merge Morgan and Coppin State University into one college fueled the protest.
Students initially aimed to meet with then-Morgan president Earl S. Richardson, but quickly realized that their gripes were with the state of Maryland and then-Governor William Donald Schaefer. Nearly all of the students' demands stemmed from the consistent underfunding and neglect by Maryland of its HBCUs.
"Our process was never against our administration…our main thrust became very clear once we discovered that the root cause of the problems was due to lack of funding from the state of Maryland," said Mitchell.
In addition to the sleep-in protest and the campus shutdown, Mitchell and three other students made a 34-mile on-foot trek to the state capitol in another effort to demand a meeting with Governor William Donald Schaefer who had previously condemned and remained unresponsive to the students' demonstrations.
The 34-mile journey brought the protest to the steps of the State House, leading to Mitchell and the MSU Spokesman staff being harassed by hate groups like the Ku Klux Klan.
"I was called a ni***r. I was threatened by the Klan. They said they would blow my monkey head off if they saw me…and I was called on the other side an Uncle Tom and a sellout," said Mitchell.
Despite pushback, Mitchell and students moved forward and eventually negotiated with Governor Schaefer to reach an agreement to increase funding for Morgan. Yet, reparations were not awarded until decades later.
"Our protest planted the seeds for ultimately what became the lawsuit against the state of Maryland, which was settled just last year for $577 million," said Mitchell.
In 2021, Maryland settled a lawsuit with HBCUs for $577 million dollars as compensation for the many decades of underfunding for Morgan State, Coppin State, Bowie State, and the University of Maryland Eastern Shore.
Despite not receiving full reparations for a considerable amount of time, students saw immediate fruition from their efforts, as Blount Towers' construction was quickened for a fall 1991 opening. Students also saw repairs to their dormitories, increased lighting around campus, and heightened security.
What has happened since?
After the protests and the construction of Blount Towers in 1990, the campus did not see another residential building constructed for another 30 years with the construction of Thurgood Marshall Hall in 2022.
Between these 30 years, however, the campus saw immense improvements, including the opening of the Earl S. Richardson Library in 2008, the Earl Graves School of Business and Management in 2015, the adjacent Martin D. Jenkins Hall in 2017, the Calvin and Tina Tyler Hall in 2020, and the opening of Thurgood Marshall dining hall in 2023.
In the wake of recent additions and improvements to the university, there are plans for further evolution of Morgan's campus. A new unnamed residential hall and a new public health building are both set to open in 2024, Baldwin Hall and Cummings House will undergo renovations and reopen in the fall of 2024, and in just two years O'Connell Hall will be leveled, rebuilt, and ready for students in 2027.
How are students now?
Despite the aforementioned changes, students still endure some of the same issues that were protested. These include alleged mice and mold issues, leaks in dorms, poor lighting in spaces on campus, and financial aid issues.
Students both off and on campus also experience recent issues, complaining of slow internet speeds, poor shuttle service, and safety concerns specifically in Marble Hall Gardens.