Alleged mold and mice issues persists throughout Morgan's residence halls
Students residing in on-campus housing have experienced alleged mold, mice, brown water and more instances of unsavory living conditions this semester.
Several students living in Morgan State University's residence halls have expressed dissatisfaction with the cleanliness of their buildings.
Students residing in Cummings House, Blount Towers and Harper-Tubman House have experienced mice, bugs, and mold issues in their dorm assignments.
Kevin Banks, vice president of student affairs, explained the university has pest control workers regularly visit Morgan's campus.
"We have pest control on campus daily to do a search and seal strategy to look at any existing holes in buildings and hallways and put more sweeps on doors to make sure that we are mitigating the influx of rodents particularly in our residence halls," Banks said.
Door sweeps are mechanisms that are installed under a door to fill any gaps between the door and the ground. This action is done to limit rodent access.
Banks added that the ongoing construction of three new buildings may be a factor in the dormitory issues along with students failing to properly dispose of trash.
"I've seen a couple of situations where students might get bags of chips and they eat some chips, and they'll close the bag up and put it inside of a tin and that's snack for any rodent that might be on the prowl," Banks said.
Kyasia Johnson, freshman psychology major and Blount Towers resident, recalls her first encounter with a mouse in her building.
"So, my friends are just at the library, and then I came back to my room, and opened the door and I turn the light on. And as soon as I did, I seen the mouse run across my floor and like run under the air conditioning unit," Johnson said.
Johnson explained prior to coming to Morgan she never had to deal with pest issues in her past homes and was frightened. She proceeded to place a mice trap under her air conditioning unit that did not catch the rodent.
"That night after I seen it, I didn't even want to really come [back] into my room", Johnson said.
Canyon Griffith, freshman nursing major and Blount Towers resident, echoed the dorm's pest problems and revealed sanitary issues in communal bathrooms.
"I haven't seen any mice, but I have seen like a bunch of bugs," Griffith said.
As she reflected on the residence halls' communal showers, Griffith said the condition of the showers is worrisome and are not sanitary.
Cummings House, one of Morgan's oldest female dormitories, has also received scrutiny about alleged mold from current residents.
Nia Badger, freshman political science major, found mold in numerous places in her Cummings suite upon moving in.
"I personally found mold in our shower, on our shower floor and near our lights. And I've heard that some rooms and Cummings have had mold in their bathrooms as well and it has spread," Badger said.
She revealed in one instance, water was leaking from the shower's ceiling where the mold was located.
"So, we reached out to our RA and then she said to make a request for maintenance, but we already did prior to reaching out to her and they still haven't come in yet," Badger said following the incident.
She submitted a maintenance request Nov. 1 and the issue has not yet been resolved.
Contrarily, other students in Cummings believe their mold problems were solved in a timely and efficient manner.
Assata Allah-Shabazz, freshman strategic communication major and Miss Baldwin-Cummings 2021, notified maintenance of mold in her Cummings suite. The mold was removed two to three weeks after the report was made.
"I say they [the maintenance staff] do communicate efficiently. So, sometimes it does take a while, I'm not going to say that they're 5 to 10 business days, but I will say that they do the best that they can," Allah-Shabazz said.
"It really comes with the wear and tear of the building because Baldwin and Cummings are the oldest buildings on campus and they were the first dorms," she added.
Douglas Gwynn, director of the Office of Residence Life and Housing, explained all instances of mold are immediately investigated as they are reported.
"There's a difference between mold and mildew and in both cases, they have to be cleaned, and buildings like Harper-Tubman, Baldwin and Cummings, we don't clean the bathroom space. The students are responsible for getting together and setting the cleaning schedule for the bathrooms," Gwynn said.
He added the appearance of mold is often caused by a leak from an air conditioning unit.
The issue of mold in Morgan dorms is not exclusive to bathrooms, as another resident recalled mold on her personal belongings after moving in.
Junior architecture major Jada Williams had her suitcase, bookbag, and microwave overcome with mold after moving into Harper-Tubman House. She had never experienced this before.
"I've never seen that before and I was like I don't understand what's happening, so I did a deep clean, I cleaned everything, so I didn't understand why everything was contracting mold," Williams said.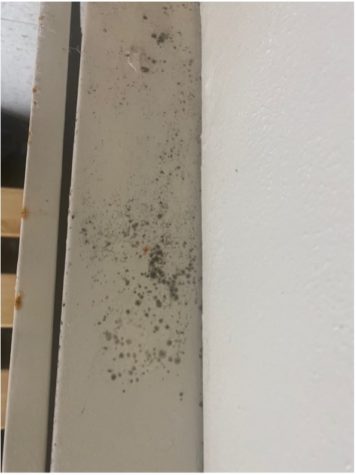 Due to the overwhelming amount of mold that had grown on them, Williams was forced to throw away certain personal items.
Banks assured that the university is aware of mold in some residence halls and has contacted a mold inspector to analyze these areas. There is no word on the outcome yet.
Other issues have persisted across campus dorm buildings, such as brown water coming from faucets in residence halls.
Kenidee Blakey, freshman nursing major and Harper-Tubman resident, said along with mold, she was disgusted to find brown water coming from her bathroom sink.
Blakey explained one morning she noticed the brown water as she was washing her face and immediately went to the building's front desk to complain.
"They [people at the front desk] just told me 'Oh, it was due to construction' but it's been brown water multiple times," Blakey said.
She said that there was no formal email or any communication from the building's resident assistants that brown water should be expected because of construction.
Blakey and other residents of her building were shocked. Blakey was forced to wash her face with bottled water she had to purchase.
Regarding in Harper-Tubman, Gwynn said the issue of brown water could be an instance of the building adjusting to new residents after not being used during the pandemic.
"What institutions try to do with physical plant in regard to some of their maintenance crews is go into the buildings and turn on the systems and start getting them running when we knew the students were coming back. So, we could have some residual brown water in the system coming out because the systems haven't fully ran a cycle to remove all that stuff," he said.
In reference to rodents, Gwynn said all efforts are being made to ensure that mice do not infiltrate dorms.
"We respond to student complaints regarding rodents as we get them. Unfortunately, we're in the midst of a huge construction and so everywhere around campus… the construction is hiding where they [rodents] usually hide," Gwynn said.
He explained the Office of Residence Life and Housing had conversations with residents regarding proper food storage in containers to prevent garnering pests.
Gwynn stressed that all reports made to the Office of Residence Life and Housing are thoroughly analyzed.
Llewellyn Means contributed to this article.