Allied Security Officers voice mounting safety concerns at Marble Hall
After the recent death of security officer Julian Fruh, Allied Universal security officers expressed concerns and fears for their safety while working.
Several Allied Universal security officers have expressed fear for their safety following the death of Julian Fruh, a 19-year-old security officer with Allied Universal, who was shot to death on Aug. 29.
Morgan State University has a contract with Allied Universal to provide security on campus and at Marble Hall Gardens complex, an apartment complex housing many Morgan students.
According to multiple Allied Universal employees, the courts, a series of outdoor posts in the vicinity of Marble Hall Gardens, have long been a concern to the unarmed officers.
"Us Morgan State University Allied workers have been complaining about posts being unsafe," an anonymous Allied security officer said. "We've been bringing it up in meetings that we don't feel safe in those parts. We've been complaining about the shootings. We've been complaining about the robberies. We've been complaining about the assaults. We've been complaining about a lot of things."
Lance Hatcher, chief of police for Morgan's police department, said there are 16 security officers per shift on the main campus during weekdays.
Arlington Avenue has one security officer posted and Marble Hall Gardens has five security officers per shift.
According to Hatcher, posts at Arlington Avenue and Marble Hall Gardens have officers posted 24-hours a day, seven days a week.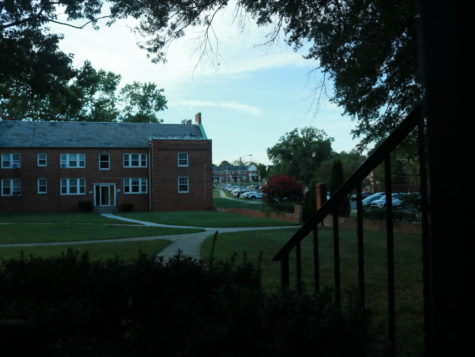 A second Allied Universal officer, who also wishes to remain anonymous, clarified the standard procedures for each shift: a standard shift is eight hours and if a security officer wants a break, the officer needs to call the shift manager to watch over the post during said break. 
The shift manager will then venture to the officer from the office, and stand in the officer's place while the officer is on break.
The officer said these breaks are often the only occasion officers will have any sort of accompaniment during late night and early morning hours.
The second officer said it adds to feelings of unease and isolation, especially if the manager is slow in responding to these calls.
This interaction compounds fears when combined with increased occurrences of violent incidents and accidents in the courts compared to the rest of Morgan's campus.
If anything happens in the courts, like an act of violence or an accident, the second officer said it could be several hours until management is aware due to the decreased visibility of overnight duty, decreased foot traffic and management not roving the area during those times.
"I've been working there since January and so many situations have happened to me in the small amount of time that I've been there," said the anonymous Allied officer.
"There were a couple of officers that didn't even last a whole day out here. One of the girls was pregnant and they put her outside. She said 'I'm not going to stand out here in the dark' and she never came back," the officer said.
The officer further explained that the majority of posts on Morgan's campus did not include a shelter or structure for guards, regardless of the time of day or weather conditions.
The outdoor posts in the courts are in open or gated areas among the buildings lining Marble Hall Rd. 
"People have been complaining since I started," said the Allied officer. "We don't have any walkie-talkies, we're not armed – we don't have anything. [There's] nothing to protect ourselves but ourselves and each other." 
Adding to this sense of unease, Baltimore City Police has not released any investigation updates about Fruh's death.
"Everyone at Allied Universal is saddened and absolutely devastated," said Sherita Coffelt, vice president of communications at Allied Universal. "We are providing daily support and counseling to Julian's partner who was on duty with him that evening and the other team members who may be impacted."

Though saddened as an organization, Allied cannot answer any questions about current safety procedures or any updates to policy as officials are actively investigating Fruh's murder.
"They've changed nothing, nothing at all," said the officer. "Every time somebody complained, they said 'well, this is what you signed up for.' Nobody signed up to lose their life or be outside in the dark."