President Wilson addresses reopening plans ahead of the fall semester
In his State of the University Address, President David Wilson reviewed Morgan's mask mandate, housing overage solution, vaccine requirement and more.
On Wednesday, President David Wilson discussed the university's reopening plans and new updates during the 2021 Faculty Institute event. 
In the President's State of The University Address, Wilson briefed on the university's reinstated mask mandate, the COVID-19 vaccination policy, the $1 million cost to fulfill housing demands two weeks before the fall semester begins and an update on the university's vaccine site. 
Mask Mandate Reinstated at Morgan
Larry Jones, assistant vice president of public relations and strategic communications, announced the university lifted its mask mandate for fully vaccinated individuals in June. However, Wilson just announced Morgan will reinstate its indoor mask mandate for all individuals, vaccinated and unvaccinated, as a result of the rapidly spreading Delta variant.
"Because of the rise of the Delta variant and the recommendation coming out of (School of Community Health and Policy Associate Dean) Dr. (Anita) Hawkins' committee three weeks ago was that we move to masking indoors for vaccinated people. And the city of Baltimore has also required that masks are to be worn for individuals who are fully vaccinated as well as unvaccinated indoors. That's our policy here at Morgan as well," Wilson said.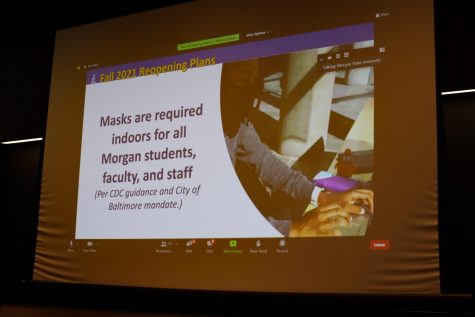 Although the mask mandate is being reinstated at Morgan, Wilson said there will be no social distancing requirement on campus.
COVID-19 Vaccination Policy
Last spring, Wilson announced the university is requiring full COVID-19 vaccinations for all faculty, staff and students in order to return to campus this fall. In addition to requiring the vaccination, faculty, staff and students must submit their vaccine documentation online to the university health center portal.
The university is now in the process of verifying vaccination statuses. According to the university's vaccination analysis, 74.11 percent of employees' vaccinations have been verified, 23.18 are unverified and 2.71 are exempt due to medical or religious reasons.
"The best path forward to a return to normalcy was to require everyone within our community to get vaccinated. All faculty, staff, and students are required to receive a full vaccination or be approved for an exemption," Wilson said. 
Failure to upload the required vaccine documentation may result in inability to move into residential facilities, according to the division of student affairs. 
Students who wish to opt out of the vaccination due to medical and religious reasons must submit an exemption excusing them from the requirement. Those on campus that are unvaccinated must participate in COVID-19 testing twice a week. 
Housing Demands Move 300 Students in Nearby Hotel
As Morgan experiences another housing overage, the demand for housing is higher than ever before. Due to the increased student enrollment, the Office of Residence Life and Housing received 3,100 applications, with only 2,600 guaranteed spaces in university housing.
In order to house all of the student applicants, the university had to lease spaces in a nearby hotel. On Monday night, the Board of Regents approved the university's leasing of the Delta Hotel by Marriott and the Village of Cross Keys. 
The Delta Hotel, 4.1 miles from Morgan, will house around 300 students. Fulfilling the housing needs of Morgan students cost the university $1 million. 
"So we continue to experience losses because we are not raising tuition, we are not raising room and board, we are not raising any fees. A matter of fact, it is costing us, we are losing $1 million with the hotel. And so it's costing us $1 million more than what we are collecting from the students to live there," Wilson said.
Although students will reside in a hotel, the Office of Residence Life and Housing is offering students the same services that are available to those living on campus. 
"That's going to be a full residential hall of Morgan State University in Cross Keys. So we are putting in place 24/7 security, shuttle services every 15 minutes or so, there will be an on-site residential director, RA's. But in essence, we are basically bringing to that facility the same services as we would if those students were in Blount or in Rawlings," Wilson said. 
Morgan's Vaccination Site Update 
In April, Morgan partnered with Maryland Department of Health and Maryland Equity Task Force to host a Moderna Vaccine Clinic for students, faculty and the Baltimore community. Since then, the vaccination site has vaccinated more than 5,000 individuals.
"We have administered over 5000 vaccines to individuals who have come into the student center. That is how we understand our role as an anchor institution in Baltimore City that is deeply trusted by the larger community," Wilson said. 
As Morgan reached its goal of vaccinating 5,000 people, the vaccination site is set to close on Aug. 21.