Some were there for food quality improvements and others for disability service issues, but the Morgan State University community heard the president's numbers about decreased retention but the need for more financial support.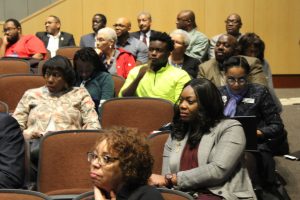 The auditorium located in the University Student Center filled about 125 seats of students, staff, faculty and more. David Wilson, the president of MSU, explained the detailed data about the increased number of returning sophomores, juniors and graduates as he explained that the decrease of retention is simply because students do not have the funds.
"Last year we had about 1,054 about freshman. I asked Dr. Popovich and he came back with a study that about 15 percent of those students left because we had group of students making meaningful progress, but they run out of money," said Wilson. "With the institutional aid we gave them, the pell grants, the loans, it is just still not enough."
The Office of Student Success and Retention has worked to improve retention rates.
"You heard a lot about finances tonight, but we try to have a hands-on approach. We start emailing students, but when students aren't reinstated after a certain point, we literally assign students to one of my staff to help students find out from financial aid what is wrong," said Tiffany-Beth Mfume, the assistant vice president of student success and retention. "We help students navigate the process to get reinstated."
"He talked a lot about retention, but how do they expect us to do well on midterms and show homecoming spirit? It does not make sense," said Jadah Toni-Mitchell, a sophomore biology major, that could not understand how administration expects students to be successful and retained with midterms and homecoming during the same week.
"The Mid-Eastern Athletic Conference football calendar, which is not controlled by Morgan, and the academic calendar is done five years in advance," said Kevin Banks, the vice president for student affairs.
"Last year, it worked out that homecoming and midterms were not during the week, but this year it went back. We met with Dr.Gibson, Dr.Wilson, and the Student Government Association, to look at the possibility of shifting midterms to this week. In terms of the midterm submission process, that's already pre-slated on the academic calendar and we just could not change it."