Alumni, scholars and local officials gathered for the groundbreaking ceremony for the new Calvin and Tina Tyler Hall, which is set to open on Morgan State University's campus in 2020.
The building will be named after two of the University's most generous supporters and known philanthropists, alumnus Calvin Tyler and his wife Tina. It is an $88 million investment for a new student services building and will house nearly 20 departments including Records and Registration, Admissions and Financial Aid.
A set of 10 hats and shovels were displayed over a pile of dirt at the site of the former Soper Library to signify where the new building will be when finished.
The Hon. Kweisi Mfume was among the first to speak. Mfume recalls being a student at Morgan when Soper Library was one of the newer buildings; he jokingly admits that being at the groundbreaking of a new building at the same spot is very telling of his age.
Baltimore Mayor Catherine Pugh is an alumna of Morgan and remembers her time as a student and the progress that's been made at the university since then, noting that much of it is due to the Tylers.
"Mr. Tyler I want you and Tina to know what you have instilled in these young people – giving them the opportunity to attend this university that's not only impressionable but creates leaders throughout this nation," said Pugh.
The Tylers have an endowed scholarship with the school and emotions began to show as the students present stood up and individually thanked them for helping them on their academic journey.
Sen. Nathaniel McFadden expressed his gratitude for the opportunities Morgan has provided for him and notes how important it is to reach back into the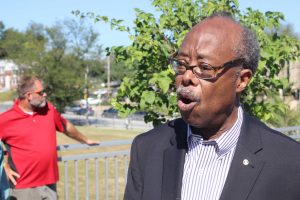 place that has made several of the ceremony's invited guests.
"What has transpired over the years has just been wonderful – a testament to the commitment of the leaders of Morgan, to provide opportunities for young students to grow and develop and to someday be able to come back and do the same thing we're doing," said McFadden.
Other guests present included Sen. Joan Carter Conway, Lt. Governor Boyd K. Rutherford, Kara Turner, Ph.D and Morgan president David Wilson.