March Madness begins this week for many teams across the country. Hundreds of teams will compete in their conference tournaments to secure a spot in the big dance, the NCAA Basketball Tournament.
When the Morgan State University men's basketball team started this season, expectations were relatively low. They were only picked to be tenth in the Mid-Eastern Athletic Conference's (MEAC) pre-season poll, but this year's team had much higher goals than that.
After storming out the gate with a 7-1 conference record they wound up third in the conference thanks to a tie-breaking win over Hampton. Finishing 11-5 in conference, and 14-15 overall was a huge surprise for a team that went 9-22 (6-10 conference) just last year.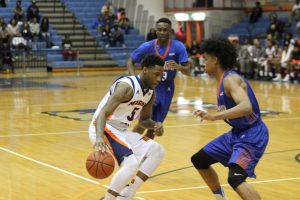 This has been a special year for head coach Todd Bozeman, who became Morgan's winningest coach in January with the win over South Carolina State. He now has 173 career wins at Morgan, eclipsing the 166-mark set by Nathaniel Frazier in the seventies and eighties.
Heading into the MEAC tournament the favorite is North Carolina Central University who finished first in the MEAC with a 13-3 conference record and a 22-8 record overall. They were the only MEAC team to finish over .500 winning percentage overall this season. Norfolk State and Hampton will also present a challenge for the championship, along with Morgan.
The tournament starts on Monday with men's teams tipping off at 5 p.m. from the Scope Arena in Norfolk, VA. Not all men's teams are going to attend the tournament due to Savannah State serving a post-season ban by the NCAA for low Academic Progress Scores. They finished the season 10-6 in the MEAC and would have been the fifth seed in the tournament if they were eligible.
The reason behind this year's team success begins with their defense. They led the nation in opponents  three point percentage (28%) and finished second to only NC Central in points allowed per game in the MEAC at 65. Led by MEAC defensive player of the year junior forward Phillip Carr, Morgan was tough to score on all season. Carr also led the conference in rebounding and joined teammate junior guard Tiwian Kendley on the MEAC's All-Conference first team.
"I'm really happy for Phil and Tiwian," said Bozeman. "They both work extremely hard, and for both to have come back from injuries and have impactful seasons, it really says a lot about them."
The team will have its first game on Thursday March 9 at 6 p.m. and will play the winner of the Coppin State versus Howard game on Monday night. The Bears are 2-1 against those teams this season with the loss coming against Howard in early February in D.C. If they advance, the semifinal game will be played on Friday at 8 p.m. The championship will be on Saturday March 11 at 1 p.m. and will be televised on ESPN2.