After a typically tough non-conference schedule, the Morgan State University Bears have been clicking on all cylinders to win seven of their last eight games en route to a first-place ranking in the conference.
North Carolina Central University visited Morgan on Saturday looking to overtake the Bears atop the MEAC standings, and did just that with a 68-60 victory.
Morgan started slow to begin the game, allowing NCCU break the game wide open with an 19-9 lead after 10 minutes of play. The Eagles continued their dominance with an 27-15 lead with 3:43 left to go.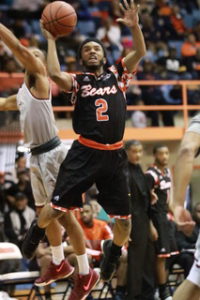 The Bears shot 30 percent from the floor while averaging 23 percent from the three-point line in the first half, yet were only down 31-23. Head coach Todd Bozeman felt lucky to have such a close score to a "mature team". He "didn't think they were ready" for the showdown with the Eagles.
As halftime concluded, a different Morgan State team emerged on the floor. They outscored NCCU 37 to 34 in the 2nd Half. The Bears had an 45% shooting percentage and 50% from the free throw line as well.
Junior guard Tiwian Kendley observed that "nobody was scared" as the 2nd half moved on and the Bears attempt at a comeback was underway. After a three throw by Kendley at the 12:44 mark, Morgan State started to slowly cut the lead. He went on to score 5 points for his team, decreasing the lead to six points with over seven minutes left in the game.
NCCU rebounded with multiple scores in the paint, but sophomore guard Antonio Gillespie shorted the deficit to seven points. A powerful dunk by freshman forward David Syfax with 3:53 left on the clock helped turn the momentum Morgan's way.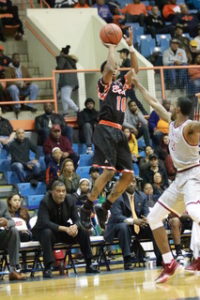 Following an exchange of free throws and layups, the Bears were three points away from tying the game with 14 seconds left. Unfortunately, Morgan's rally fell short as NCCU iced the game from the free throw line.
Scoring nine points in his return after missing five games from injury, junior forward Philip Carr felt "very grateful to be back." However, he "wasn't comfortable out there". He also stated that he and Kendley need to "stop playing with the guys so much" when talking about veteran leadership. Despite the perceived leadership issues, Bozeman stated that he would "rather have them back then not have them back".
This loss drops Morgan State to 10-12 on the season and 7-2 in the MEAC. The Bears will look to keep their Top-4 standing in the MEAC next Saturday against Delaware State.
*With help from Benjamin McKnight III, Editor-In-Chief*