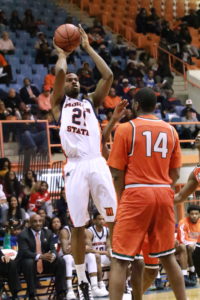 The Morgan State University men's basketball team defeated Florida A&M University, 77-60, to remain first in conference standings.
The first half saw the Rattlers miss eight of their first nine shots and while they started to find their rhythm, it was tough to overcome; the Bears shot over 50 percent from the field and connected on several long-range shots.
"I'm always going to bring a ton of energy into a game," said junior guard Tiwian Kendley, who lead all scorers with 21 points. "When I bring energy, it picks [the rest of the team] up."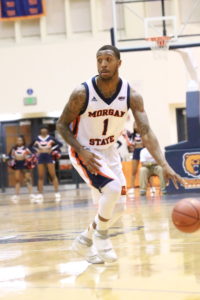 "Tiwian's been a warrior," said head coach Todd Bozeman. "I'm proud of him; he just keeps going, he's a savage out there."
Coming from the break with a 41-24 lead, the Bears picked up where they left off in the second half by shooting 40 percent, and making 70 percent at the free throw line. Morgan's defense continued to give the Rattlers problems, holding them to 11-23 shooting and forcing multiple shot-clock violations.
Bozeman credited the defense's success to their length and communication on the court. "If they just play their size and play the defense the way it's designed and taught, we can keep getting better," said Bozeman
The win over FAMU puts the Bears at 10-11 on the season, but more importantly 7-1 in the MEAC standings, good for first place. They take on North Carolina Central February 4 at home with a chance to get to .500 on the season.