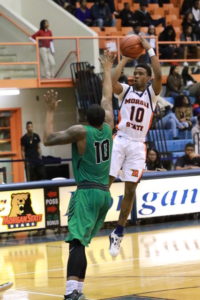 Morgan State University men's basketball team picked up their first win of the season over the previously-unbeaten Wilmington University Wildcats, 88-73. 
The first half saw the Bears execute efficiently on offense, especially from behind the arc; they connected on 5 of 12 attempts, shooting over 40 percent. Morgan's defense in the first half gave the Wildcats problems, as they blocked 3 shots and stole the ball 5 times. 
Tiwian Kendley, a junior guard and the Bears' leading scorer so far this season, had another strong night with 19 points and six assists, but he also played well on defense with six defensive rebounds, a steal and a block. He credited that, along with efforts from his teammates, as the reason they won.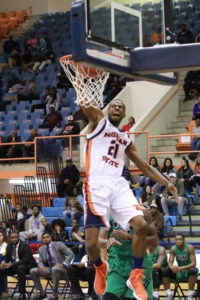 "Defense definitely wins games," Kendley said. He also said he believed the team played better defensively Thursday than they did Wednesday night in a loss to Towson University.
The second half presented a more active showing from Wilmington. At one point, they trimmed Morgan's lead as low as six points.
"We've got to do better," head coach Todd Bozeman said. "We've got to become more disciplined and we've got to tighten up the things in our overall game."
Morgan overcame Wilmington's run, and in the final four minutes, held the Wildcats to just 11 points. Kendley's efforts weren't the only notable performances; junior Preseason All-MEAC forward Phillip Carr provided a double-double, and freshman forward David Syfax also had a big game, scoring 21 points.
"As a freshman, David's bringing a lot to the table," Bozeman said of the newcomer. "He's going to be a good player for us; he's got a lot of energy and is a good ballplayer."
Morgan State is now 1-2 (0-0 MEAC) and will get ready for their third game in four nights against Campbell University Saturday afternoon at home.