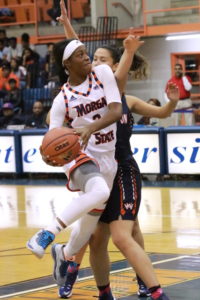 The Morgan State University Lady Bears defeated the Washington Adventist University Shock 79-28 in their home opener. The Lady Bears lead for the entire contest, holding the Shock to nine first half points and nineteen 2nd half points.
Morgan dominated both sides of the court in an intense fashion. Defensively, the Bears full court press froze the Washington Adventist offense throughout the game. The Lady Bears collected 21 steals while holding the Shock to a 21% shooting percentage. Junior Tykyrah Williams mentioned that the Lady Bears "wanted to get all of the steals they could". They produced just as well offensively, taking 81 shots on the night while grabbing 29 offensive rebounds.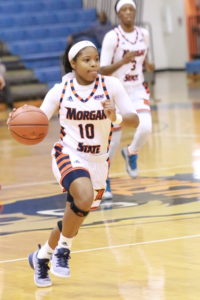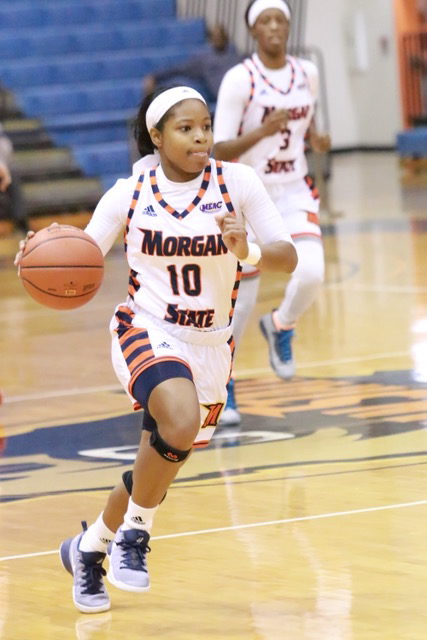 Williams had an excellent game for the Lady Bears, totaling 22 points, 9 rebounds and 3 steals on the night. She said that her team had to "slow down [and] execute our plays". Williams was pleased to see her team bounce back after Tuesday's loss.
The Lady Bears were helped with the return of their 6'2" center Lexus Spears, who scored 15 points while adding 2 Blocks and a steal to her game totals. After missing the preseason scrimmages and season opener, interim coach James Davis observed that Spears "stepped up and put pressure on the other post players".
When asked about his team's performance, Davis understands that "It's still a learning process, but our goal is to score in the 50's and hold team below that". After Tuesday's loss to Mount Saint Mary's, He told his to "Just bring that intensity from the start" when referring to the 2nd half performance. His game plan worked as Morgan scored 41 points in the second half.
The Lady Bears (1-1, 0-0 MEAC) will hit the road to face the Saint Louis University Billikens on Nov. 23, and will stay in the 'Show Me' state to participate in the University of Missouri – Kansas City Tournament in Kansas City, MO.