Founded in 1867, Morgan State University will end its fall semester celebrating their 150th anniversary, launching a celebration of its sesquicentennial during the December 16 commencement.
David Wilson, Morgan's president, knows and understands the importance of Morgan through the 150 years, to now.
"Morgan is truly a national treasure in the United States of America, we have been designated as such by the National Trust for Historic Preservation, because for nearly 150 years we have produced a cadre of outstanding leaders in politics, in medicine, education, in law, in science, in engineering to lead this country," said Wilson.
"During a time when African-American students could not go to any college in the country, Morgan opened its doors and made available opportunities for those students to succeed and we are continuing to do that today."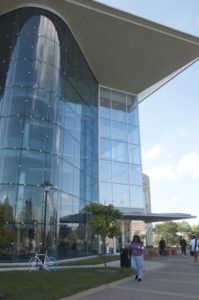 This story launches a year-long Spokesman look at the people and issues connected with Morgan as the university marks its 150th year.
Morgan started as the Centenary Biblical Institute by the Baltimore Conference of the Methodist Episcopal Church for young men in ministry. The institute became Morgan College in 1890, remaining as a private institution until 1939.
In the 1960s, Morgan College students held sit ins in Northwood Shopping Center across the street from the college.
Elizabeth Harris, a 1965 Morgan graduate, knew the importance of the shopping center for students because she protested herself.
"Northwood Shopping center was a very prestigious shopping center at that time," said Harris. "In my freshman year we took sit-ins for equal rights because it was segregated."
Morgan College became a university in 1975.
The campus has now expanded much beyond Harris' recognition.
"Morgan is just so huge now, I kind of get lost when I go there now," said Harris. "You could walk the entire campus and we walked from building to building. There was no need for a shuttle back then, we didn't even have the bridge when I was there; you walked across East Cold Spring Lane."
In the past year Morgan has added the Earl G. Graves School of Business and Management and a new bridge connecting the new business school to the rest of campus. Morgan is also reconstructing the Jenkins Behavioral Sciences building.
Through 150 years of changes, one thing that has remained – Carnegie Hall, built in 1919.
For Harris, Morgan has left a mark to make her the woman she is today.
"It helped me reach my goal and it was a stepping stone for me to get where I could be successful," said Harris. "I know that had it not been for Morgan I would not have had the success in life that I did."