The annual town hall meeting hosted by campus president David Wilson began in a somber fashion on Tuesday night as Wilson opened up with a few words about Marcus Edwards, 21, the Morgan State University sophomore social work major killed late Monday night.
"I received one of those late night calls that a member of our Morgan State family was injured, then shortly after the call came that he had died," Wilson said," It felt like I had lost my own son." Before continuing, he emotionally encouraged the audience to remember and reflect on Edwards' life.
The slideshow presented on the current state of Morgan covered the many improvements and successes made over the past year, such as the 76 percent freshman retention rate – the highest rate in three decades – and the school's plans for the future.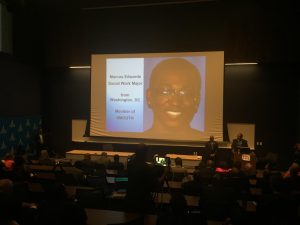 Most of his points were well received and even applauded, particularly the extending of the hours the student center and library would be open. The loudest applause came after the announcement of the plans for the new and improved Northwood Shopping Center. A new Barnes & Noble campus bookstore with a Starbucks will highlight the many improvements that will include a new market, the return of Rite-Aid, and a black-owned restaurant.
The topic of visitation was not taken quite as well. Changes in policies at Thurgood Marshall and Marble Hall Gardens will mean they will follow the same procedures as the other dorms on campus. Dr. Wilson did leave students with a little hope by saying that the administration would be looking at other institutions and making changes to the notion of visitation.
Problems with security and safety were number one on many students' list. Consistency and commitment of the security force were questioned as the many incidents over the past few years were brought up. One student even questioned Wilson's praise of the Morgan police force over the summer, noting that she had not seen any improvement over the years.
Most of the town hall revolved around the students' questions for the president Wilson, and the event had to be extended in order to accommodate the amount of discussion.
"I felt that the town hall was a success" said Egaria Lee, a junior biology major. "Students asked an abundance of questions that Dr. Wilson and the faculty gave detailed answers. It was good to see so many students be patient yet still passionate about their school."