Morgan State University has reassigned Donald Beasley, the head coach of the women's basketball team, to a new position at within the school, according to athletic director Floyd Kerr.
"Coach Beasley will be reassigned within the University to work in marketing and development," said Kerr, who is retiring at the end of this month.
Kerr declined to say why Beasley was relieved as head coach, citing school policy.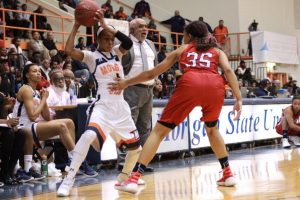 Beasley was placed on administrative leave and subsequently reassigned following a June 14 Baltimore Sun story where current and former players alleged verbal abuse from Beasley.
Beasley was hired as the head coach, March 14, 2005. Throughout his tenure with the Lady Bears, he has amassed a 141-191 record, making him the winningest coach in program history.
Edward Davis Jr, who spent the past two years as an assistant coach for the Lady Bears, will serve as the interim head coach this season.
"I want to thank coach Beasley for his years of service and his leadership and successes he did achieve in the program," said Kerr