Coming off of a narrow victory against crosstown rival Coppin State University over the weekend, Morgan State hoped to add another win to end their season and build momentum to take into postseason play.
Instead, the University of Maryland Eastern Shore Hawks sabotaged Senior Night in Hill Field House on Thursday, winning the contest 80-71 and completing a season sweep on the Bears.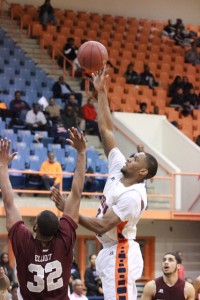 In the early portion of the game, the Hawks and the Bears traded baskets and neither team could establish a solid lead. Senior Andrew Hampton, who spent most of the season on the bench recovering from a car accident injury, contributed two early 3-pointers that gave the Bears their largest lead of the night at 14-10. UMES went on to initiate a 12-3 run and take a lead that they would not give up for the rest of the game.
Although sophomore Clive "C.J." Vaughn's nine points off of three 3-pointers helped keep the Bears within striking distance as the first half progressed, the Hawks took their first double-digit lead at 39-29 with just under two minutes to go.
"We didn't make some of the right rotations on the defensive end," said senior Cedric Blossom, who finished second in team scoring with 16 points.
After taking an eight-point lead into the half, UMES returned to the court and opened with a 14-4 run, taking their largest lead of the night at 18.
Morgan clawed their way back into the game behind sophomore Phillip Carr's 15 second half points, pulling within three points of the Hawks at 70-67.
"The last eight minutes of the game, we showed [the fight]," said senior Rasean Simpson.
A few costly turnovers in the final minutes prevented the Bears from capitalizing on the comeback, and the Hawks scored 10 of the last 14 points in the game.
The loss left the Bears with an 8-21 regular season record and 6-10 in the conference. They will face off against UMES for a third time in the opening round of the MEAC Tournament on March 8.
"It's up to us, we've got a chance to beat everybody in the conference," said senior Dante Pretlow.
Coach Todd Bozeman could not be reached for comments after the game.