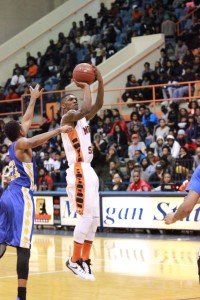 The Morgan State Bears looked to avenge last season's loss to cross-town rival Coppin State University, and did so in a dominant fashion with a 40-point win on Monday night.
The Bears did whatever they wanted offensively. They scored 28 points in the paint and got to the free-throw line 22 times in the first half alone, making 11 of those shots.
Morgan's bench put on an impressive performance on the night in contributing 36 points, including 12 from freshman Antonio Gillespie.
"I think we played well as a unit instead of as individuals," said Gillespie. "I think we are clicking right now on both the offensive and defensive ends."
The defense made life difficult for the Eagles all night long, holding them to just 14 made shots on 51 attempts and 18 percent from the three-point line.
Sophomore forward Phillip Carr credited the defensive schemes as the key behind Morgan's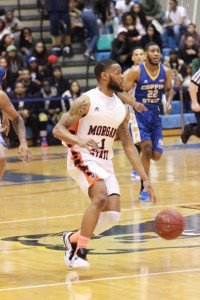 defensive success Monday night. "It's the 2-3 defense that coach [Todd Bozeman] put in," said Carr. "We really just try to mimic the Syracuse Orange defense. We just took away passing lanes and we just did it all; we got them."
"I've been saying all along that we're getting better, but it didn't necessarily show in the wins and losses," said Bozeman.
Bozeman was also highly satisfied that he finally had the team together and fully healthy. "This was the first time we had all our guys together," he said. "We've had guys out periodically during the year. We had two weeks off after a Florida trip where I thought guys were getting better, and I think the guys are starting to come together now."
The win improves the Bears conference record to 3-4 with an overall record of 5-15. Their next game is on the road against Savannah State next Saturday, and they look to extend their winning streak to three games.
"I'm extremely proud of them, and we just want to keep moving forward and keep getting better," Bozeman said.