The Morgan State Lady Bears basketball improved their conference record to 6-2 following a big win over crosstown rivals Coppin State University Monday night in Hill Field House.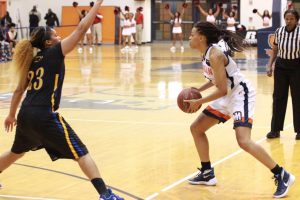 The Lady Bears came into the contest hoping to ride the momentum from their victory over Howard University two nights prior, and that's exactly what they did. The Lady Bears opened the game with a 7-0 run and kept their foot on the gas all night.
After the game, Coach Donald Beasley said he was proud of the way the girls played. "As long as they stay within themselves, they're good," he said. "It's when they do things that I don't ask them to do or they think they're capable of. Now the object is to maintain."
One of the most productive performances of the evening was that of Lexus Spears. The sophomore forward was unstoppable, recording 15 points, four rebounds and a steal. "I think it was a great game, and I couldn't have done it without my team," Spears said. "All the assists, all the rebounds, we worked together as one."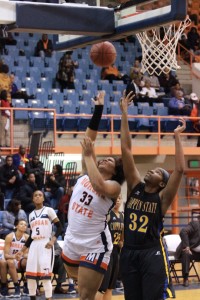 As Spears mentioned, her teammates all played well. Sophomore guard Braennan Farrar contributed with six made field goals that included a trio of three-pointers. She applauded the teamwork and said, "We came out with a lot of energy. First quarter, we went up 7-0 and, from there, we didn't come down."
As for the next game, which is a road contest against Savannah State, Farrar said that in order for the team to win they need to continue practicing hard. "Keep practicing hard, keep up the intensity, and play as one," she said.
Morgan State takes on their conference foes on February 6 at 4 p.m., and won't host another game until February 20 when they take on North Carolina Central University.