Howard University's James Daniel III leads the nation in scoring with 28.2 points per game. The second person on that list is Buddy Hield at the University of Oklahoma with 25.9.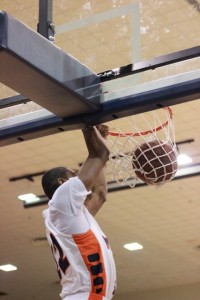 For any other team that is 3-15 going into a game against an opponent who has the highest scorer in the nation, the pressure would be enough for them to fold early on. For Morgan State, it was nothing more than a slight challenge that they could not back down from. The Bears held Daniel 10 below his season average in an emphatic 83-63 win against the visiting Bison.
"We knew he could shoot, that's all we kept hearing all week," said junior Andre Horne, who had 18 for the Bears. "That was the key; deny him and take away the next pass."
Morgan jumped out to an early 6-2 lead, keeping the Bison from scoring in the first four minutes of the opening half although they failed to capitalize on a handful of momentum-changing opportunities. Those mistakes caught up to the Bears soon after, as Howard used a 9-2 run to take a lead. Both teams stayed very close for the remainder of the half, with neither team creating a lead larger than four points.
"I thought we missed a lot of layups and short shots in the first half," said head coach Todd Bozeman. The Bears entered the break with a 34-33 lead, but was not performing as well as Bozeman believed they could.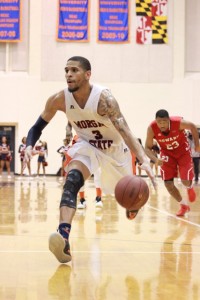 The Bears came out clicking on all cylinders in the second half with an 11-3 run to begin the period. Seven of Morgan's 12 steals on the day came in the second half, and with 11 minutes left they secured their first 10-point lead.
"Our coach did a great job on emphasizing playing zone defense but knowing where the shooter was at all times, and that was Daniel," said senior Cedric Blossom, who led all scorers with 19 points. "We did a great job of locking in on him, and towards the end we started to double him and get the ball out of his hands."
As the game came to a close, Howard's head coach Kevin Nickelberry was ejected after a verbal altercation with the referees in response to a charging call on his team. Senior Rasean Simpson converted all four free-throws to put the stamp on a much needed victory for the Bears.
The Bears are now 4-15 on the season and 2-4 in the MEAC. They will face cross-town rival Coppin State University at home on Monday.
"They've got a couple shooters," said Simpson, "so we just need to start packing in the defense.