After a dismal 1-6 start to the season, the Lady Bears hosted the Norfolk State University Lady Spartans to open MEAC play. Led by returning sophomores Breannan Farrar and Lexus Spears, the Lady Bears recovered from a third quarter deficit to win 67-58.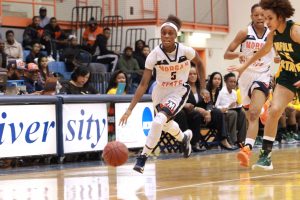 The Lady Bears opened the game with a nine point lead to end the first quarter, increasing it to double digits before the half expired. "We came out early and got some scores," said head coach Donald Beasley. "You see our post [Spears] can't be stopped if we figure out how to slow down and get her the ball."
In the third, though, the youth of the Lady Bears was exploited by the visiting Lady Spartans. With the loss of Tracey Carrington to graduation, the Lady Bears have no upperclassmen in the back court. "All my guards are sophomores," said Beasley. "They don't understand what being strong every quarter is." The same turnovers that Morgan was forcing in the first half, they were giving up in the third quarter. "We were too relaxed," said sophomore guard Zuri White. "We were too comfortable. We didn't come out how we should have."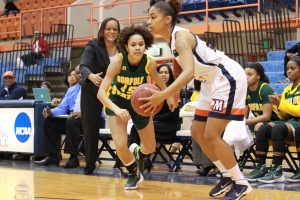 The Lady Spartans outscored the Lady Bears 25-6 in the third. A layup from freshman Yazmen Hannah gave the Spartans the lead at 38-37, at which Norfolk State did not look back for the time being. "We gave up a lot of easy buckets for them to come back," Beasley said.
Farrar spearheaded the fourth quarter comeback for the Lady Bears, scoring 20 of the team's 26 points in the period. Though Spears fouled out early in the quarter, Morgan's stout defense of the first half was present once again, limiting the Lady Spartans to 31.4 percent shooting from the field. "We fed off each other, just listened to each other," said Farrar. "The defense converted to offense."
The win improves the Lady Bears record to 2-6 as well as 1-0 in the MEAC. On Monday, they return to Hill Field House to face off against the Lady Pirates of Hampton University at 5:30 p.m.
"We better play some more damn defense," said Beasley. "My kids got a bad habit when the other team gets the ball to stop and freeze. We gotta work on getting back, cutting Hampton off and only giving them one shot."