After starting the year 0-2 and being outscored 130-21, the Morgan State football team looked far from the team that won the MEAC championship a year ago. Since then they have run off four straight wins including starting 3-0 in conference play.
The success of the team may come to a surprise to some, especially after losing 10 players before the season because they were academically ineligible.
Last season's leading rusher Herb Walker Jr., who set school records with over 1,400 yards and 15 touchdowns, was one of 10 players suspended by the NCAA.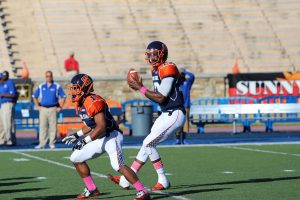 With no premiere running back, head coach Lee Hull has resorted to a "running back by committee. We're just trying to devise ways to run the football differently." The offense is averaging over 177 yards on the ground with three different players running for more than 200 yards on the season. Senior quarterback Moses Skillon leads the team with 344 yards and 5.8 yards per carry.
The efficiency of the running game has helped the offense average 37 points per game and dominate time of possession, which in turn has kept the defense fresh.
The defense has emerged as the backbone of the team this year, recovering from the early season struggles and allowing only 22 points over the past four games. The defensive line has gotten pressure on opposing quarterbacks, racking up 14 sacks and only allowing two touchdowns in during the winning streak.
This Saturday, Morgan will host the Hampton Pirates (3-2) for the homecoming game, who boasts the conference's best offense averaging over 385 yards per game.
"We're going to do what we do" Coach Hull said about the defense,"We get after the quarterback, he's the guy that makes things go so if you can contain him you got a chance."