Western District Police Station protested again amidst rising tensions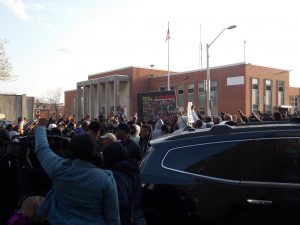 BALTIMORE — Tensions were high at the Western District Police Station in Baltimore Wednesday evening as protesters returned to the precinct to rally over the death of Freddie Gray, the 25-year-old African American man who died after suffering a spinal cord injury while in police custody.
Unlike Monday's protest, which took place almost on the doorsteps of the police station, protestors were prevented from even approaching the station by barricades and a line of uniformed police officers. The crowd of at least 140 people was undeterred, however, choosing to congregate at the corner of 1100 North Mount Street and 1700 Riggs Avenue.
Protestors made clear their distrust and displeasure with the Baltimore Police Department by distributing flyers and sporadically chanting "No Justice, No Peace." During the protest, Black Lawyers for Justice President Malik Shabazz proclaimed, over a bullhorn, that an upcoming protest on Saturday should boast numbers of over 10,000 people.
"There should be three times the number of people than today," said Shabazz.
Although things were largely peaceful, there was one disturbance sometime after 7 p.m. that led to an increased amount of expletives, bottles and cups being hurled at the blockading police.
Officer Bill O'Donald said that "kids were egging on" some of the men who had climbed on top of some of the concrete k-rails that were placed on the street and that there was an attempt to "advance farther" that was stopped by the barricade. However, Travis Robertson, a Baltimore native who is currently studying law in California, said that three people had been arrested for jumping the gate.
"The police are violating our First Amendment rights. We should be protesting on the grounds of the station, not blocked off on the corner," said Robertson. "This is public property. We were protesting there the other day, so why did they block us off right here today?"
Despite the disturbance, the mixed crowd of residents and protestors remained energetic and confident that Gray's death could be a rallying cry to meaningfully address concerns of excessive force used by police.
Among the protestors were two Morgan State University students, who attended the protest of their own volition.
"People are extremely angry. I'm noticing the rage and the hurt in people's faces and in their eyes," said Lindsey Spencer, a Baltimore County resident and public relations major. "I'm on the verge of tears just standing here…this is my community. These are my brothers."
Spencer also believed that the manner in which the Gray case is being handled is "a joke."
"It's not fair. It's not fair to our young black men who have to deal with the police on a day-to-day basis," said Deja Diaz, a Broadcast Journalism major. "They know it's racist and it's just sad."
Other residents echoed their sentiments, and in some cases, suggested further action.
"I'm hoping that we can generate a boycott of all white businesses. Hopefully that will have an effect where the mayor will start listening and everybody else will start listening to the black community," said Willie Davis. "Because when you hurt their pockets – which that's the only thing they're interested in – then you'll see big change."
Meanwhile, Danielle Dorsey said, "I have two sons growing up in Baltimore City…I'm not trying to lose my sons, or be scared for my sons to walk outside, scared that the police are going to kill them."
This protest was one of at least two to take place in Baltimore on Wednesday.
According to CNN, another larger protest began downtown near City Hall and was marching through the city as of 9 p.m.
Photo Credit: Herman Fogus
To see the remaining photos from this rally, click here.