Wes Moore, Aruna Miller sworn in at historic inauguration
With his right hand on the bible of Fredrick Douglas and on the steps of a state capital built by enslaved Africans, Wes Moore was sworn in as Maryland's first Black governor on Wednesday.
Wes Moore was sworn in as the first Black governor of Maryland Wednesday on the steps of the Maryland State Capitol Building.
In addition to Moore's historic inauguration, Aruna Miller was also sworn in as Lieutenant Governor of Maryland, making her the first South Asian woman to hold office in the nation.
In his first address to Maryland as governor, Moore honored his and Miller's mother, both of whom are immigrants, and remembered the African Americans and people of color who came before them.
"[It is] impossible not to think about our past and our path," said Moore moments after being sworn in on the bible of Frederick Douglass.
Moore also recounted his promises to "leave no one behind," and pointed out the discordant state of Maryland's economy, healthcare and educational systems.
"We do not have to choose between a competitive economy and an equitable one," said Moore. "It should not be a choice. It isn't a choice." 
People from throughout the state of Maryland gathered dressed in their best to view history in the making.
In addition to the Marylanders in attendance, Moore's inauguration saw appearances from senators, politicians, Baltimore Mayor Brandon Scott and award-winning television personality Oprah Winfrey.
"I trust you [Moore]. I trust your vision. I trust your leadership," said Winfrey, "And I want you [Maryland] to know you can trust it too in your new governor Wes Moore."
In attendance also was the renowned Morgan State University Choir. Deijah Knight, junior voice major, led the choir in their performance of "God Bless America."
"Grateful in an understatement," said Knight, who began her performance full of nerves, but once she blocked out the eyes of famed celebrities and politicians and sang "for God," her anxiety melted away.
Though Knight is excited for Moore to stay in office and believes that he will change the state for the better, Moore's inauguration also faced criticism from local protestors.
Duane Davis, colloquially known as "Shorty" came to the inauguration to make sure that the elected officials were held accountable for their promise to defend the constitution free of prejudice and partiality.
"Mic check!" shouted Davis. "'I'm part of the constitution you have to defend," he continued, standing in front of the gated and reserved section of the inaugural crowd.
In addition to Davis, protestors boasting #StopHindutvaMaryland signs protested Miller and claimed her connection to Hindu fascist donors.
Namita Money was among the protesters claiming Miller's link to Hindu fascist organizations. Money believes Marylanders must understand the potential increase of fascism in state and national government.
"We demand that she [Miller] publicly denounce ties to Hindutva and the Hindu supremacist movement and return money donated from Hindutva-aligned individuals," said Money.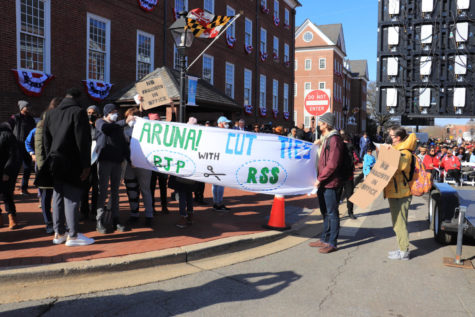 However, Knight and many other Moore supporters trust the Moore-Miller campaign and pray for their success.
"It's 2023 and this is now the world we live [in]," said Knight. "I pray that everyone that's not okay with it [Moore in office] will get used to it."