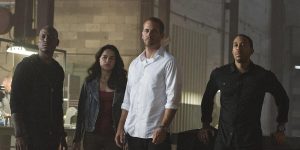 By Herman Fogus
The Fast and Furious franchise has been quite the success story since the 2009 movie (also titled Fast and Furious) reunited the original movie's cast and reoriented the overall arc of the series from street racing to elaborate, action-filled heists that just happen to involve a lot of high performance cars. Unfortunately, at the height of its popularity in November 2013, the franchise suffered its largest blow when series star Paul Walker was killed in a car accident.
With the latest entry, Furious 7, in the middle of production at the time, doubts arose as to whether or not it could even be completed without its number-two star. But the production ultimately soldiered on, and it is to everyone's benefit. Years down the road, when Hollywood historians analyze the franchise, Furious 7 will be seen as not only one of the series' best…but its most heartwarming overall.
Following their explosive exploits in Europe, Dominic Toretto (Vin Diesel) and his crew have finally earned their freedom and their rightful place at home in the United States. But as they adjust to their newly-unburdened lives, their past returns to haunt them in the form of Deckard Shaw (Jason Statham). After Shaw murders one of their own and makes another attempt on their lives, Toretto, Brian O'Conner (Walker), Letty Ortiz (Michelle Rodriguez), Roman Pearce (Tyrese Gibson), and Tej Parker (Chris "Ludacris" Bridges) must reform and team up with a shadowy government agent (Kurt Russell) to track down Shaw before he finds them again.
For an entry to a series that has prided itself on being loud, wild and unashamedly care-free when it comes to its action sequences, Furious 7 is remarkably heartfelt throughout. Franchise veteran Chris Morgan delivers a story that relies heavily on the underlying themes of family and fire-forged bonds. A strong subplot throughout the movie centers around Dominic and Letty as the latter struggles to recover from developments explored in Fast & Furious 6. Another tangent focuses on Brian and wife Mia Toretto (Jordana Brewster) and his difficult adjustment to a slower-paced lifestyle with their son. These plotlines, on paper, feel like they were ripped from a daytime TV soap opera…and not a particularly good one at that.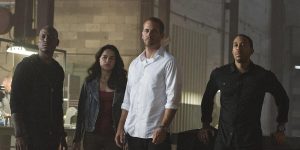 In execution, though, they come alive—thanks to the powerful chemistry that has always existed between the four leads. Slow sections of the movie that should bore viewers to death don't, because it is highly entertaining to watch Diesel, Walker, Brewster and Rodriguez play off of each other, and off of fellow cast members Bridges and Gibson. And that has been the beauty of the series since Fast Five; it would be a real challenge to find a group of people who genuinely enjoy being around each other like the cast in the Fast and Furious series does. They may not be the best actors out there…but they don't have to be. Watching this movie feels like watching lifelong friends at a Thanksgiving gathering, or a really good night out at the bar.
Which leads to late star Paul Walker. While Walker was never the franchise's true face – that honor belongs to Diesel – he nonetheless became an integral part, and made the role of Brian his own. What makes Furious 7 so touching is that viewers are watching the last performance of one of the series' enduring characters. And everyone involved is working to make sure that he is given a proper send-off. Walker's brothers, Cody and Caleb, were hired to stand in and provide vocal help while CGI was used to digitally map Paul's face onto his brothers. The results are nearly flawless; only the most eagle-eyed of viewers will be able to tell Paul from his brothers. In addition – and without providing any spoilers – the end of the movie is almost exclusively reserved for a final, emotional tribute to Walker that will make some viewers question how much of it was simply ad-libbed by the cast.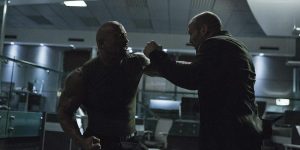 Even with all of its poignancy, however, Furious 7 never completely forgets what it is. Jason Statham is effective as an implacable boogeyman of sorts who deals the team its biggest blow yet, as the ending of the last movie revealed. Also returning is Dwayne "The Rock" Johnson as equally implacable Toretto ally DSS Agent Luke Hobbs; although he has his smallest role yet in this movie, Johnson manages to steal scenes even as he is laid up in a hospital bed. As for the other new cast members, Kurt Russell has fun with his role of "Mr. Nobody," providing B-movie cheese that the series has become exceedingly proficient at taking and making enticingly palatable. Meanwhile, Djimon Hounsou and Nathalie Emmanuel are perfectly serviceable in their roles of terrorist mercenary Jakande and Ramsay, the hacker who is freed from his grasp, respectively. The movie even features appearances from Tony Jaa and MMA superstar Ronda Rousey, but they are strictly there for muscle – Rousey gets a couple of lines, but they lack the power of her physical punches.
Then there is the main draw: the physics-defying action scenes. From a HALO air drop – with cars! – to a climatic cat-and-mouse chase through Los Angeles, director James Wan proves a suitable successor for Justin Lin, who exited the series after the last movie. None of the action scenes can top Fast Five's high-water mark of a car chase involving two Dodge Chargers and a bank vault, but they come close. The only minor disappointment involves the final fight between Diesel and Statham; intercut with other events, it's a little underwhelming given how much the movie builds up to it. Ultimately, though, this is just a tiny quibble.
In promoting the movie, Vin Diesel suggested, facetiously, that Furious 7 should win next year's Best Picture Oscar. While that is doubtful, a sentimental longshot of a case could be made for it; Furious 7 is a surprisingly touching entry in the adrenaline-packed series, and a perfect vehicle of a group of actors who truly loved each other.
Furious 7, directed by James Wan and distributed by Universal Studios, is in theaters now.
Pictures courtesy of Universal Studios