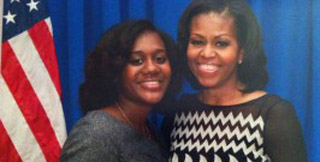 The future is now. Live for today, but still work to have a better tomorrow. Work hard and the rest will follow. These are a few of the motivational words that Charnelle Bacon has for her mentees, friends, and pretty much anyone she comes in contact with.
Bacon is a senior at Morgan State University who double-majors in Elementary Education and Journalism. She believes that "teaching and kids are the foundation of our future." With the goal of becoming an education journalist, the busy college student is constantly at work perfecting her craft. Whether it is taking care of business or participating in some kind of activity, Bacon's life revolves around educating and helping others.
During the school year, Bacon worked as a resident assistant (RA) on campus in Clarence C. Blount Towers (Blount) and interned at Northwood Elementary School assisting in a fourth grade class.
"Just my persona, as the kids would say, or the fact that I'm friendly and out there made them feel comfortable," she said. Over the course of her apprenticeship, many of the students reached out and asked if she could mentor them. "I saw where the children had a lot of different needs in different areas, so I availed myself to them, to help."
As an RA, her duties were no different. Unlike all the other floors in Blount, which have two RA's each, Bacon was made to watch over more than 40 women on the first floor, all by herself. Despite it being her first year in the position, she welcomed the challenge.
"It's really good to have an RA to be on that level of communication with, and actually like them so that you feel comfortable," said Latasha Augustus, a freshman political science major and resident of the first floor. Coming to Morgan, Augustus had her fair share of issues and did not know who to turn to. But after get to know her RA, she grew to confide in and trust Bacon.
"What I did the first day was to make rules. 'This is what's tolerable,' you know. Quiet hours start at 10:30," explained Bacon. In order to let the girls know where she stood, while still preparing them for the world, she made sure to start out the year with a specific set of guidelines. "I speak with the ladies as such and I hold them accountable because that's what they're going to face in the world. I'm just here to mold them."
Over the summer, Bacon will continue to work with students. As part of the Educational Talent Search, a pre-college program at Morgan, she will be teaching a group of high school students Black History with a focus on Baltimore. Bacon will also be teaching arts to a group of first graders at New Song Academy in Baltimore City. Always looking to acquire new skills, will be taking a Spanish and French class as well.
Along with a number of demands placed on her, Bacon still makes time for another one of her passions, jewelry making. In 2006, at the age of 15, she created her own line of jewelry—Diverse Image—but only started back up recently after stopping for some time to focus on school.
The eclectic pieces, which she customizes to match the personality of the wearer, take some time and effort. "The jewelry goes off your past experiences and your future expectations. So my objective is to dig deep in that," she says. To this day, she has made somewhere between 800 to 1000 pieces. "I don't believe in going to the store, seeing jewelry and saying, 'hey, this is me.' You wear jewelry because it is representative of who you are." Although she does not sit down with every single person to discuss what he or she would like, she takes her time to make sure that a bit of that person's personality is displayed in the final product.
"I've seen a lot of people who do so much and they lose themselves and let all the stuff they have to do defeat them. I feel like it doesn't even faze her sometimes. She just knows what she has to do and she just does it," said Valerie Arum, a freshman business administration major and one of Bacon's resident's. "She's inspiring."