Morgan's volleyball team loses to Howard 3-0
The Lady Bears are now 1-3 in Mid-Eastern Athletic Conference (MEAC) play this season after losing to Howard Friday night.
On Friday night, Morgan State's volleyball team (3-15) lost their match against Howard University (6-10) 3-0 in Hill Field House.
The Lady Bears lost their match in shutout fashion for the second consecutive week after losing to Coppin State 3-0 on Oct. 1.
Morgan lost their first set against Howard 25-19.
Howard had 14 kills and a .364 hitting percentage in the first set while Morgan only had eight and a .107 hitting percentage.
Howard won the second set 25-17.
Morgan had nine attack errors in the second set compared to Howard's four. Morgan also committed five service errors in the second set.
Howard finished the match by winning the third set 25-16.
While the Lady Bears lost the last set by nine points, they had 12 kills compared to Howard's 11.
Howard sophomore outside hitter Jennifer Bolden finished the match with a team-high nine kills.
Howard freshman middle blocker Cimone Woodard recorded seven kills on 12 total attacks and accumulated a .500 hitting percentage.
Morgan was led in kills by freshman outside hitter Madison Grace who had 10.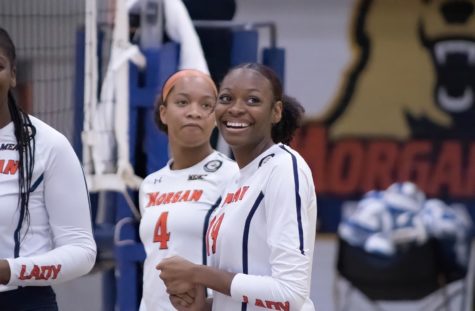 The Lady Bears will try to improve their conference record to 2-3 on Sunday when they face Norfolk State (5-11) in Gill Gymnasium in Norfolk, Va.