Morgan State student-athlete remembered with $32,000 scholarship
Shortly after Jordan Cofield's funeral, his mother Chere M. Goode knew she wanted to honor her son's name. She decided on a scholarship.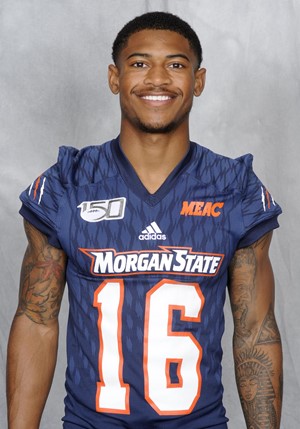 Business administration major Jordan Cofield, a junior, died in a motorcycle accident on Aug. 22. Less than two months later, his mother Chere M. Goode is raising money for a $32,000 scholarship in his name.
On Oct. 11, Goode took to Instagram to announce that she will continue the legacy of her son and award six HBCU student-athletes $5,000 each.
"Even though we can't see Jordan's dream come to reality with him graduating from college with his degrees and making it to the NFL, maybe we can keep another student's dream alive by helping them pay for their college," Goode said.
The Jordan Cofield Scholarship is open to undergraduate students who attend Morgan State University, University of Maryland Eastern Shore, Coppin State University and Bowie State University. Rising college freshmen who plan to attend an HBCU in the state of Maryland are also eligible to apply. Each applicant must be an athlete with at least a 3.0 GPA.
Junior biology major Teona Spriggs, Morgan State Cheer Team's co-caption, said Cofield's tragedy will hopefully teach people to live life to the fullest.
"To those who did or did not know him, they would know a little bit more about him and who he was and be inspired by him," Spriggs said.
The former Morgan State wide receiver and kick returner ranked second in the Mid-Eastern Athletic Conference for kick return average during his sophomore year.
The two-sport athlete was widely known as a hard worker both on and off the football field and track. His mother said it was necessary to highlight the impact he left in the classroom just as much as he did in sports.
"Scholastically and athletically, he was setting the trends for others to have to pattern themselves after," she said.
Approximately $890 has been collected through GoFundMe since Goode's initial announcement on Oct. 11 and the application process will begin once all monetary donations are collected.
Physical education major Dion Golatt, a senior, said the scholarship is a great idea because now Cofield will always be stamped in the Morgan community's memory.
"Someone who overcomes challenges and still excels at the same time, I think someone who does that will be a good recipient of Jordan's scholarship," Golatt said.
Six students will be selected by Cofield's immediate family members and granted a $5,000 scholarship along with a small reception.
Goode said the goal of the scholarship is to provide financial assistance to those working towards thier goal. But most importantly, the scholarship is intended to keep her son's legacy alive.
"Anything we can do to keep Jordan's legacy alive and know that he would want us to inspire somebody else through his tragedy," Goode said.