Baltimore politicians and officials reminisce on Cummings' life and legacy during service at Murphy
U.S. Rep. Elijah E. Cummings did not spend the last few days of his life in pain or agony—he spent them on the rooftop of Johns Hopkins Hospital, taking in the view of Baltimore City, according to Cummings' wife Maya Rockeymoore Cummings.  
By this point, Cummings was unable to get out of his hospital bed. The diligent staff wheeled him to the hospital's roof so he could receive some sunlight. In a moment of reflection, Cummings viewed his hometown of Baltimore in amazement. 
"He looked upon the Inner Harbor, he looked upon South Baltimore, where he grew up, he looked upon Downtown, he looked upon the Westside and it was so glorious," Rockeymoore Cummings said. "He said, 'Boy, I've come a long way.'"
Most people expect funerals to be a somber scene, but the late Congressman's tribute service at Morgan's Murphy Fine Arts Center was a joyful, uplifting celebration of his achievements and the impact that Cummings made in the Baltimore community and the country. 
The second-row balcony had reached maximum capacity, causing ushers to lock the door and direct attendees to the third floor, some of which also included Morgan students.
"He meant a lot to the city and people around it," said Kayla Macnesse, a freshman business administration major. 
Cummings' body lay in repose, with a public viewing on Wednesday, from 10 a.m. to 6 p.m. where plenty of Baltimore residents and Morgan students paid their respects. 
The tribute service began with a prayer from Rev. Scott H. Adams and a solo performance of "Great is Thy Faithfulness" from Cameron Potts, a member of the university's choir. 
Rachel Monroe then introduced a set of elected officials who made speeches for the event. This included Sen. Ben Cardin,  Maryland House Delegate Nick Mosby and State's Attorney Marilyn Mosby, Baltimore Mayor Bernard "Jack" Young and Former Baltimore Mayor Stephanie Rawlings Blake amongst others. 
Marilyn Mosby received a standing ovation for her impactful speech where she described Cummings as more than a leader.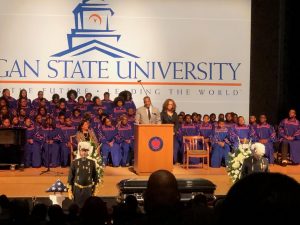 "Congressman Cummings didn't just represent Baltimore's 7th Congressional District, he fought for our city and our country," she said. "And when both came under attack, he put himself on the line in defense of our city." 
Recurring themes of anecdotes showcasing Cummings' passion and relentless commitment to public service occurred throughout the speeches from other officials. 
Nick Mosby said, "[Cummings] wasn't about the people, he was the people." 
Many of the speakers described Cummings' devotion to improving social justice issues. 
During the 2015 riots after Freddie Gray's death, Cummings was seen at the front lines. He could command a room full of political powerhouses and walk the streets of Baltimore. His devotion to treating everyone with dignity earned him overflowing adoration. 
The most anticipated speaker of the nearly four-hour-long service was Rockeymoore Cummings. Many guests had left by the time she took the stage and she began by thanking all of the people who had spoken that night. 
"Thank you for loving Elijah Eugene Cummings because guess what, he loved you," she said to the crowd.
"Everything he did was to make sure that those who had been oppressed, depressed…and marginalized got a better chance at life. He made sure until his dying day that he was a supporter of people who needed an uplifting hand," Rockeymoore Cummings said. 
Argonne Drive was illuminated by red and blue police lights around 10:20 p.m. as Cummings' coffin was escorted away from the university. 
On Thursday morning, he lay in state in National Statuary Hall in the U.S. Capitol.
A funeral for Cummings will be held Friday, Oct. 25 at New Psalmist Baptist Church. The Baltimore church, where the late congressman worshipped for over 40 years, is located at 6020 Marion Dr. The wake will begin at 8 a.m. and a 10 a.m. funeral will follow. Former President Barack Obama and the Clinton family have announced that they will be in attendance.